17 Aug 2015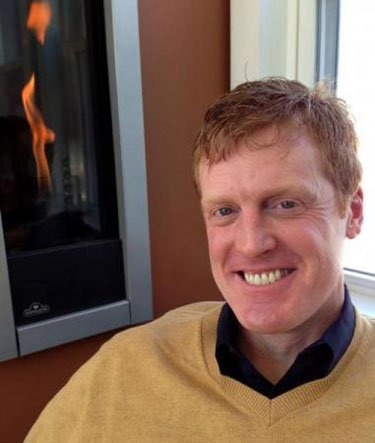 Stephen Davis, now co-"head-of-College" for Pierson College at Yale. Davis has chosen to share the title with his frau. After all, a husband being Master (or "head") of a college and not including wifie would be unequal. (Thousands of Yale men are spinning in their graves.)
Anybody doubt that Eliot and Vargas LLosa are right? Just read this, a piece demonstrating what kind of blithering, wimpy creeps have replaced the men who used to teach at Yale and serve as college masters. John Hersey, Master of Pierson in my day, must be laughing in Hell. And just look at that miserable wretch in the above photo: No jacket, no appropriate shirt, no necktie. He's married, of course, to a priestess, and she appears for her photograph as co-"Head of Pierson" in a t-shirt!
The Yale Alumni Mag offers a now-go-out-an-throw-up-in-the-street item to brighten alumni's lives today.
The sign on the door says "Pierson College Master's House," but the person who currently holds that title would rather you call him something else. Religious studies professor Stephen Davis '98PhD, who was named master of Pierson in 2013, recently wrote to members of the college to ask that they "refrain from calling [him] 'Master' Davis." He explained that "I have found the title of the office I hold deeply problematic given the racial and gendered weight it carries. . . . I think there should be no context in our society or in our university in which an African-American student, professor, or staff member—or any person, for that matter—should be asked to call anyone 'master.'" He suggested that students could call him "Dr. Davis" or "Professor D." Davis's biography on the Pierson College website now refers to him as the "head of college.
If the old Lithuanian greenhorn Pans I knew growing up in Shenandoah had heard this one, they would not have called this wanker "master" ("Pan" in Polish and Lithuanian). They'd have snorted and called him: "chÅ'op" ("peasant", "serf", "slave").