19 Feb 2013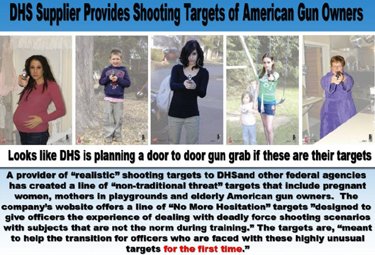 Elderly Americans? small children? mothers with their kids? pregnant women???
A company supplying targets for law enforcement training, selling to all sorts of federal agencies, is now offering a special"No Hesitation" line of targets featuring the kind of targets that, historically, only SS Einsatzgruppen were trained to kill.
This is the sort of story that sends me normally directly to Snopes, but it is for real. The link to the target company web-site is right below in the first sentence of the quotation.
Law Enforcement Targets, Inc. is a 21-year designer and full service provider of training targets for the DHS, the Justice Department and thousands of law enforcement agencies throughout the country.

The company's website offers a line of "No More Hesitation" targets "designed to give officers the experience of dealing with deadly force shooting scenarios with subjects that are not the norm during training." The targets are, "meant to help the transition for officers who are faced with these highly unusual targets for the first time."

The targets include "pregnant woman threat," "older man with shotgun," "older man in home with shotgun," "older woman with gun," "young school aged girl," "young mother on playground," and "little boy with real gun."

Why are top training target suppliers for the government supplying the likes of the DHS with "non-traditional threat" targets of children, pregnant women, mothers in playgrounds, and elderly American gun owners unless there is a demand for such items?

This is particularly alarming given the fact that the Department of Homeland Security has purchased roughly 2 billion rounds of ammunition over the course of the last year, enough to wage a near 30 year war.

In comparison, during the height of active battle operations in Iraq, US soldiers used 5.5 million rounds of ammunition a month.

The DHS also purchased no less than 7,000 fully automatic assault rifles last September, labeling them "Personal Defense Weapons."

The fact that targets of armed pregnant women, children, mothers in playgrounds, and American gun owners in general are being represented as "non traditional threats" "for the first time" is deeply concerning given the admitted preparations for civil unrest undertaken by Homeland Security as well as other federal agencies.
Read the whole thing.