07 Sep 2015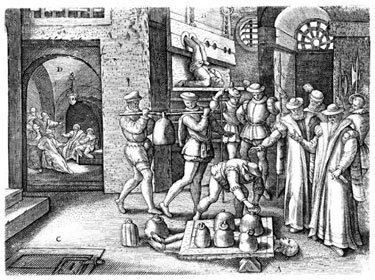 In earlier times, recusants like Margaret Clitherow (1586) might be pressed to death in England.
Bookworm argues, quite correctly, that what has happened to Kim Davis demonstrates that Justice Kennedy's Obergefel decision results in the establishment of the secularist equivalent of England's Test Act, which barred Roman Catholics and other religious non-conformists from holding public office. Today's established church, of course, is the Church of Secular Statist Egalitarianism.
Going back in time a few hundred years, one of the primary things that drove British people to America's shores — beginning in 1620 — was religious discrimination. A significant feature of this discrimination came into being in the late 17th century with various laws aimed at preventing anyone who was not a member of the Church of England from holding public office (civil or military) or working in a university or college. To get those jobs, one had to take an oath [affirming conformity to the beliefs of the church of England]. …

In other words, no non-conformists, Catholics, Jews… or practitioners of any other non-C of E religions need apply. It was against this backdrop that the Founders, more than twenty years before England slowly started reforming its religious restrictions, enacted the First Amendment to the Constitution, the very first clause of which definitively rejects a religious test for public employment:

Congress shall make no law respecting an establishment of religion, or prohibiting the free exercise thereof…

Today, though, thanks again to Judge Kennedy's fatuous romanticism and magical constitutional thinking, we are seeing the federal government reject the First Amendment and revert to the Test Act mentality. Davis and others similarly situated are being forced into the equivalent of an oath. …

I warned years ago that, if the gay marriage crowd got its way, we would see the end of the First Amendment and I issued this warning because I foresaw what is happening here: Because gay marriage is antithetical to mainstream traditional faith it can be forced on Americans only if the federal government requires people to abandon their faith — something directly contrary to the promise of the Bill of Rights.

Kim Davis may not be a pretty Hollywood star or an even prettier San Francisco mayor, and her own approach to traditional monogamous heterosexual marriage may be spotty, but she has proven herself to be a true member of the civil disobedience club, one who is willing to go to jail to defend her civil right to practice her religion freely without the United States government forcing her to abandon core doctrinal beliefs as a condition for employment.