11 May 2021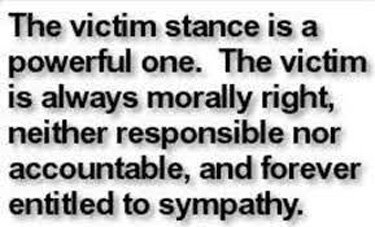 Nautilus looks at the left's obsession: victimhood through the lens of social science.
In a polarized nation, victimhood is a badge of honor. It gives people strength. "The victim has become among the most important identity positions in American politics," wrote Robert B. Horwitz, a communications professor at the University of California, San Diego.

Horwitz published his study, "Politics as Victimhood, Victimhood as Politics," in 2018.1 He focused on social currents that drove victimhood to the fore of American political life, arguing it "emerged from the contentious politics of the 1960s, specifically the civil rights movement and its aftermath." What lodges victimhood in human psychology?

In 2020, researchers in Israel, led by Rahav Gabray, a doctor of psychology at Tel Aviv University, conducted a series of empirical studies to come up with an answer.2 They identify a negative personality trait they call TIV or Tendency toward Interpersonal Victimhood. People who score high on a TIV test have an "enduring feeling that the self is a victim in different kinds of interpersonal relationships," they write.

The study of TIV is built around four pillars. The first pillar is a relentless need for one's victimhood to be clearly and unequivocally acknowledged by both the offender and the society at large. The second is "moral elitism," the conviction that the victim has the moral high ground, an "immaculate morality," while "the other" is inherently immoral. The third pillar is a lack of empathy, especially an inability to see life from another perspective, with the result that the victim feels entitled to act selfishly in response. The fourth pillar is Rumination—a tendency to dwell on the details of an assault on self-esteem.

You only need to spend only a few minutes watching or reading the news, in any country, to hear and see victimhood raging. We caught up with Gabray to get the science behind the headlines.

Is TIV an aberration in the personality?

Sometimes it may be, if one is high on the TIV scale. But we didn't research clinical patients. That's not what interested me. I'm interested in how this tendency appears in normal people, not those with a personality disorder. What we found was that like in a bell curve, most people who experience TIV appear in the middle range.

You found a correlation between TIV and what you referred to as "anxious attachment style", as opposed to "secure and avoidant" styles. What is the anxious style?

Another way to say it is an "ambivalent attachment style." So when a child is very young, and care is uncertain, perhaps the caregiver, or the male figures in the child's life, don't act consistently, sometimes they may act very aggressively without warning, or they don't notice that the child needs care. That's when the anxious attachment style or ambivalent attachment style is created.

So victimhood is a learned behavior after a certain age.

Yes, normally children internalize the empathetic and soothing reactions of their parents, they learn not to need others from outside to soothe themselves. But people with high TIV cannot soothe themselves. This is partly why they experience perceived offenses for long-term periods. They tend to ruminate about the offense. They keep mentioning they are hurt, remembering and reflecting on what happened, and also they keep dwelling on the negative feelings associated with the offense: hopelessness, insult, anger, frustration.