Category Archive 'Virtue Signalling'
24 Mar 2018

20 Oct 2017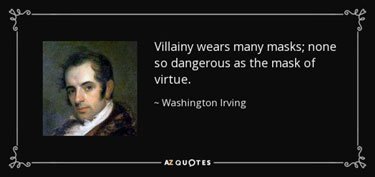 Matt Ridley believes the left awards itself far too much credit for mere intentions, regardless of results.
The curse of modern politics is an epidemic of good intentions and bad outcomes. Policy after policy is chosen and voted on according to whether it means well, not whether it works. And the most frustrated politicians are those who keep trying to sell policies based on their efficacy, rather than their motives. It used to be possible to approach politics as a conversation between adults, and argue for unfashionable but effective medicine. In the 140-character world this is tricky (I speak from experience).

The fact that it was Milton Friedman who said "one of the great mistakes is to judge policies and programmes by their intentions rather than their results" rather proves the point. He was one of the most successful of all economists in getting results in terms of raising living standards, yet is widely despised today by both the left and centre as evil because he did not bother to do much virtue signalling.

The commentator James Bartholomew popularised the term "virtue signalling" for those who posture empathetically but emptily. "Je suis Charlie" (but I won't show cartoons of the prophet), "Refugees welcome" (but not in my home) or "Ban fossil fuels" (let's not talk about my private jet). You see it everywhere.
HT: Seattle Sam.
30 Jan 2017

Peter Augustine Lawler, a professor of government at Berry College, in the new edition of National Affairs. Lawler sees the Donald Trump-Hillary Clinton contest as in large part a tale of the brutish against the nice. Many a Clinton voter would enthusiastically agree. But while the dangers of brutish thinking are obvious, Lawler points out that there is also good reason for niceness to be rejected by Americans in large parts of the country.

Niceness isn't really a virtue, Lawler says. It's more of a cop-out, a moral shrug. "A nice person won't fight for you," he points out. "A nice person isn't animated by love or honor or God. Niceness, if you think about it, is the most selfish of virtues, one, as Tocqueville noticed, rooted in a deep indifference to the well-being of others." Trump's lack of niceness, so horrifying to Clinton voters, registered to his acolytes as a willingness to fight for what's good, particularly American jobs and American culture.

Niceness is paradoxically more selfish than undisguised selfishness to Lawler, because an openly selfish person at least signals to others what his intentions are. Niceness, however, means, "I let you do—and even affirm—whatever you do, because I don't care what you do . . . Niceness, as Allan Bloom noticed, is the quality connected with flatness of soul." Lawler goes on to remark that in an increasingly nice world, in which faking niceness becomes an important job skill, soldiers and police officers become part of the counterculture. Men, especially white men, especially working-class white men, are the ones who do the not-nice jobs in our country, are comfortable with brutishness, and see the global economy as a fierce struggle between "them" (the Chinese who are stealing our jobs, the Mexicans who are undercutting us on wages) and us.

The nice people, cocooned in wealthy coastal zip codes and doing service work that doesn't require getting your hands dirty, don't see any of this, but they're happy to leave the struggling classes to their fates. For the upper echelons of society, this wasn't always so; not long ago, in Britain for instance, the well-heeled felt a duty to lead, to provide cultural guidance. These were the aristocrats, and they ran the institutions—the church, the BBC—that were beacons for the aspirational. The bourgeoisie worked as one strongly to discourage socially destructive behavior such as raising children outside wedlock, drug or alcohol abuse, or idleness. Those who couldn't speak proper English were encouraged to do so.

Today, in Britain as in America, the nice-ocracy simply shrugs as the struggling classes make terrible decisions. Who are we to impose our values on others, ask the nice-ocrats? Isn't this or that regional patois just as good as standard English? If children in the poorer zip codes are getting a terrible education, the nice-ocrats don't make a fuss. People are intelligent in their own ways, say the nice-ocrats. If testing doesn't support this, we should cast doubt on the tests. Anyway, if the not-so-gifted people raise not-so-gifted children, there won't be additional competition for those few spots on the best campuses. At Dartmouth, Yale and Princeton, there are more students from the top one-percent of the income scale than the bottom 60 percent. The nice-ocracy smiles and says, "Yes, but we voted for slightly higher taxes last time. Surely the poor unfortunates will see a bump in their welfare checks soon. Now excuse me, I have to take Emmett to his viola lesson and then his SAT tutor."