23 Jun 2023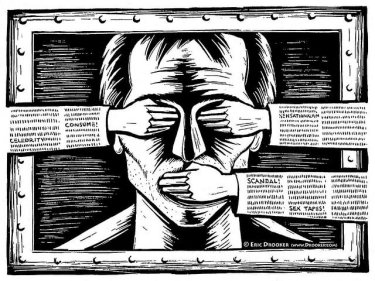 Face it, America: you're just too stupid to listen to Jordan Peterson and RFK Jr. talking about COVID vaccines. Your elite Corporate Overlords, the snot-nosed millennials with the piercings, tattoos, and the gender uncertainty, recently fresh out of college, recognize the need for themselves to do the big thinking for you. It simply wouldn't be right for both sides of the argument to come your way, you might be confused and come down on he wrong side, poor hapless schmucks that you are. That's why they're working on those self-driving cars for you!
In the old America, now gone, businessmen (like Sinclair Lewis's famous character) were timid and cautious about taking public positions on political matters or pubic controversies, recognizing that some of their customers would inevitably occupy positions on both sides of any such divide. They were afraid to come out on one side or the other for fear of losing half their business.
But today, there are all these natural electronic monopolies, Facebook and Twitter and YouTube and PayPal, and there are these gigantic legacy corporate entities, like Disney and Target and Anheuser-Busch and the Los Angeles Dodgers. If good old George Babbitt came out for Prohibition, for instance, the loose-livers and hard drinkers could, and would, just go right down the road to some other realtor. Today's big businesses have gotten out of the habit of worrying about staying on their customers' good sides. On the contrary, they feel entitled to tell you what to think.
YouTube said Monday that it had removed a video of Robert F. Kennedy Jr. speaking with podcast host Jordan Peterson for spreading what the company said was vaccine misinformation. …

YouTube's policies against hosting false medical information are long-standing.

"We removed a video from the Jordan Peterson channel for violating YouTube's general vaccine misinformation policy, which prohibits content that alleges that vaccines cause chronic side effects, outside of rare side effects that are recognized by health authorities," YouTube said Monday in a statement.