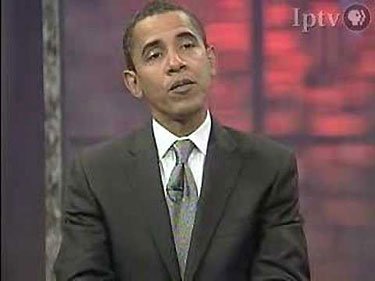 Stuart Schneiderman mercilessly rubs in what has become increasingly obvious this week: the chosen representative of our nation's establishment elite is really an ignoramus who'd flunk basic questions from a high school Civics course.
America's thinking class saw Barack Obama as a light shining in the wilderness.

In deep despair over the coarsening of public discourse during the Dark Ages of the Bush administration, American intellectuals saw Barack Obama as one of their own, someone who could restore their exalted social status and raise the level of deliberative democratic debate.

Obama hadn't accomplished anything of note; he wasn't really qualified for the presidency; but he was superbly intelligent, had presided over the Harvard Law Review, had professed Constitutional Law at the University of Chicago Law School, and had authored two brilliant books. …

A few days ago the curtain was drawn and people could see that the Wizard of Oz was not what he claimed to be.

In an effort to get personally involved in Supreme Court deliberations over his signature piece of legislation—Obamacare—our president made it appear that he did not understand the most fundamental doctrine in American jurisprudence.

The former president of the Harvard Law Review, former professor at the University of Chicago Law review managed to mangle an explanation of "judicial review." As every high school history student knows the doctrine was adumbrated in 1803 by Chief Justice John Jay in the case of Marbury v. Madison.

Obama asserted:

Ultimately, I'm confident that the Supreme Court will not take what would be an unprecedented, extraordinary step of overturning a law that was passed by a strong majority of a democratically elected Congress.

As everyone but Obama knows, Marbury v. Madison established the right of the Supreme Court to strike down Congressional legislation that it deemed unconstitutional.

The Court has done just that on hundreds of occasions.
Read the whole thing.
Hat tip to Karen L. Myers.