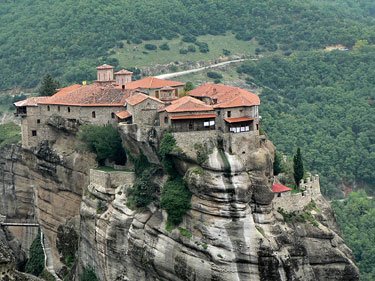 Greek Orthodox monks built 20 monasteries atop rock pillars at Meteora overlooking the Thessalian Plain, from the 10th to the 16th century, in order to get away from Byzantine politics and raiding Turks.
Wikipedia says:
Access to the monasteries was originally (and deliberately) difficult, requiring either long ladders lashed together or large nets used to haul up both goods and people. This required quite a leap of faith – the ropes were replaced, so the story goes, only "when the Lord let them break". In the words of UNESCO, "The net in which intrepid pilgrims were hoisted up vertically alongside the 373 metres (1,224 ft) cliff where the Varlaam monastery dominates the valley symbolizes the fragility of a traditional way of life that is threatened with extinction." In the 1920s there was an improvement in the arrangements. Steps were cut into the rock, making the complex accessible via a bridge from the nearby plateau. During World War II the site was bombed. Many art treasures were stolen.

Until the 17th century, the primary means of conveying goods and people from these eyries was by means of baskets and ropes.

Six of the monasteries remain today. Of these six, four were inhabited by men, and two by women. Each monastery has fewer than 10 inhabitants. The monasteries are now tourist attractions.
Trek Earth slide-show
From Fred Lapides.