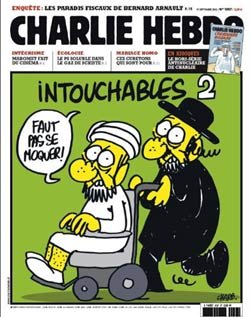 Captions: "Untouchables 2 — Must Not Mock"
The French satire magazine Charlie Hebdo again has published some cartoon images mocking Islamic religious hypersensitivity, as the Australian Herald Sun reported:
The cover of Charlie Hebdo today shows a Muslim in a wheelchair being pushed by an Orthodox Jew under the title Intouchables 2, referring to an award-winning French film about a poor black man who helps an aristocratic quadriplegic.

Another cartoon on the back page of the weekly magazine shows a naked turbaned Mohammed exposing his posterior to a film director, a scene inspired by a 1963 film starring French film star Brigitte Bardot.

Charlie Hebdo's website crashed today after being bombarded with comments that ranged from hate mail to approbation.

The magazine is no stranger to controversy over issues relating to Islam.

Last year it published an edition "guest-edited" by Prophet Mohammed that it called Sharia Hebdo.

The magazine's offices in Paris were subsequently fire-bombed.
—————————-
The government of France responded bravely by announcing the closing of twenty embassies all over the Islamic world.
France announced Wednesday it will close 20 embassies across the Muslim world on Friday after French weekly Charlie Hebdo published cartoons of the Prophet Mohammed naked, amid growing unrest over an anti-Islamic film that has left dozens dead.

The French foreign ministry announced Wednesday that France will close 20 of its embassies in Muslim countries this Friday following the publication of controversial Prophet Mohammed cartoons by satirical weekly Charlie Hebdo. Major protests in the Muslim world generally take place after Friday prayers.
—————————
Charlie Hebdo's web-site was successfully shut down by denial of service attacks, and its offices were today surrounded by French riot police.

Captions: top: "The film which embarrassed the Muslim world." Mohammed says: "And my buttocks. Do you like my buttocks?" below: "Mohammed a star is born!"