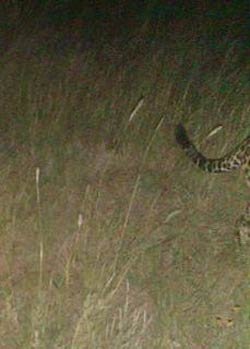 Photo taken by trail camera on September 23 somewhere "southeast of Tucson"
The Arizona Game and Fish Department is currently analyzing a recent trail camera photo of either a jaguar or an ocelot sighted southeast of Tucson.

The photo includes only the tail and a small portion of a hind quarter of the animal, making positive identification more difficult. Game and Fish is now consulting with outside experts about the photo, taken Sept. 23 and submitted by a sportsman, to better identify the species.

"We have definitively determined that it is either a jaguar or an ocelot, but we need to do further analysis of the animal's spot patterns and size to try to positively identify which species it is," said Game and Fish Nongame Branch Chief Eric Gardner.
——————————-
Arizona game officials are consulting with seven outside experts to determine if a photo recently submitted by a hunter shows the tail of a jaguar or an ocelot sighted southeast of Tucson.

While those experts' conclusions aren't in yet, two longtime cat biologists who work as volunteers for the Sky Island Alliance conservation group said Wednesday they believe it's a jaguar.

The predominant opinion among those responding to the State Game and Fish Department so far is also that the tail is of a jaguar, "but it is not the only opinion," said Eric Gardner, Game and Fish's non-game branch chief. The U.S. Fish and Wildlife Service has reached out to an eighth expert, Gardner said today.

"We do have an individual who believes it is inconclusive, but if pressed would probably go the ocelot route," Gardner said. "It's still premature. Most of it is a lot of opinion without a lot of reasoning behind it, based on experience. We have some statements based on size and length of the tail and the bushy tip of tail. But it's still being discussed in the professional arena. I think we have to let that discussion occur."

Gardner said he hopes to have heard from all the experts by early next week.

The photo was taken Sept. 23. As is typical, the state Game and Fish Department did not release the animal's specific location and Gardner declined this morning to say what county the photo was taken in.
Hat tip to Karen L. Myers.