Category Archive 'Jaguar'
08 Feb 2019


photo: Herbert van der Beek.
A couple more images here.
HT: Karen L. Myers.
25 Sep 2016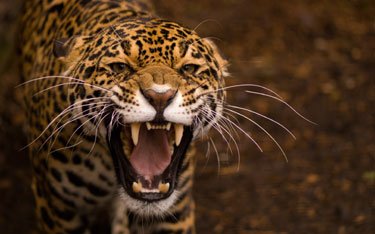 The Jaguar (Panthera onca), third largest feline predator in the world, has been described as extinct in the United States since early in the last century, but rumors and scattered alleged sightings on the tops of the "sky island" mountains south of Tuscon, Arizona were followed in recent years by photographs and videos, and even treeings and collarings of real jaguars in the Arizona mountains.
Smithsonian has a typical bleating nincompoop piece gushing over the return of the jaguar (in reality, doubtless, jaguars have always been present in the same area in very small numbers, their existence simply denied and overlooked by the authorities), complete with naming the kitty, publicity and promotion for particular self-appointed experts, partisan turf war accounts, and anti-capitalist agitation (development of a single copper mine south of Bisbee might threaten or somehow impede the peregrinations of the odd jaguar).
The real threat to the presence of jaguars in the United States is Donald Trump's "great, beautiful wall," 35 to 50 feet high, which would probably not stop really determined humans, but which would put the final kibosh on rare cross-border species like the jaguar.
If you can put up with all the cant, it is still worth reading.

Jaguar filmed recently in Arizona (February 2016 video)
Hat tip to Karen L. Myers.
22 Jun 2016

A jaguar is the mascot of Brazil's Olympic Team in the upcoming Rio de Janiero Games, but a live jaguar which was included in the recent Olympic Torch Ceremony in Manaus came to a bad end.
A jaguar featured at an Olympic torch ceremony was shot dead by a soldier shortly after the event in the Brazilian Amazon city of Manaus as the animal escaped from its handlers, an army statement said.

The jaguar was killed on Monday at a zoo attached to a military training center when a soldier fired a single pistol shot after the animal, despite being tranquilized, approached the soldier, the army said.

"We made a mistake in permitting the Olympic torch, a symbol of peace and unity, to be exhibited alongside a chained wild animal. This image goes against our beliefs and our values," the local organizing committee Rio 2016 said in a statement, adding: "We guarantee that there will be no more such incidents at Rio 2016."
20 Nov 2015

———————————
Daily Mail story
21 Jul 2015

31 Oct 2014

Yage is the Banisteriopsis caapi vine. Back in 1953, William Burroughs experimented with yage and wrote a series of letters to Allen Ginsburg describing his experiences with the hallucinogen (and with Peruvian boys, who rolled the old poof for his money, eyeglasses, &c.). I never had a chance to try this one myself, but the jaguar definitely looks happy.
Via IFL Science.
01 Oct 2013

05 Oct 2012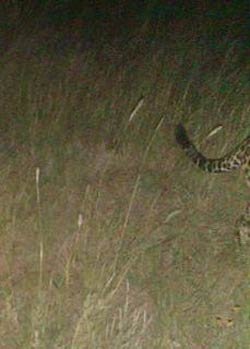 Photo taken by trail camera on September 23 somewhere "southeast of Tucson"
The Arizona Game and Fish Department is currently analyzing a recent trail camera photo of either a jaguar or an ocelot sighted southeast of Tucson.

The photo includes only the tail and a small portion of a hind quarter of the animal, making positive identification more difficult. Game and Fish is now consulting with outside experts about the photo, taken Sept. 23 and submitted by a sportsman, to better identify the species.

"We have definitively determined that it is either a jaguar or an ocelot, but we need to do further analysis of the animal's spot patterns and size to try to positively identify which species it is," said Game and Fish Nongame Branch Chief Eric Gardner.
——————————-
Arizona game officials are consulting with seven outside experts to determine if a photo recently submitted by a hunter shows the tail of a jaguar or an ocelot sighted southeast of Tucson.

While those experts' conclusions aren't in yet, two longtime cat biologists who work as volunteers for the Sky Island Alliance conservation group said Wednesday they believe it's a jaguar.

The predominant opinion among those responding to the State Game and Fish Department so far is also that the tail is of a jaguar, "but it is not the only opinion," said Eric Gardner, Game and Fish's non-game branch chief. The U.S. Fish and Wildlife Service has reached out to an eighth expert, Gardner said today.

"We do have an individual who believes it is inconclusive, but if pressed would probably go the ocelot route," Gardner said. "It's still premature. Most of it is a lot of opinion without a lot of reasoning behind it, based on experience. We have some statements based on size and length of the tail and the bushy tip of tail. But it's still being discussed in the professional arena. I think we have to let that discussion occur."

Gardner said he hopes to have heard from all the experts by early next week.

The photo was taken Sept. 23. As is typical, the state Game and Fish Department did not release the animal's specific location and Gardner declined this morning to say what county the photo was taken in.
Hat tip to Karen L. Myers.
06 Mar 2009


The late "Macho B," scientific research study subject
Remember the jaguar collared by the Arizona Game and Fish Department, a wildlife research coup trumpeted two weeks ago in news stories published around the country?
Well, as so often seems to happen when the experts go to work, the patient died.
Some news agency informed us yesterday that the collared male jaguar (now named Macho B by his former captors) was looking the worse for wear after his encounter with humanity. So they captured the poor jaguar all over again, concluded he was unwell, and after a thorough session of expert chin-stroking, euthanized him.
You or I would get in big trouble if we tried collecting a specimen of Pantera onca. Jaguar hunting is streng verboten because an unelected international committee of "experts" has placed every single representative of every jaguar population and subspecies on the sacred Endangered Species list, including the ones in the remote jungle wilderness that are not especially endangered at all.
There is no doubt that Arizona jaguars, though, are rare and in short supply, but, as this incident demonstrates, any numbskull with a degree from some state college extension and a badge can get permission from his federal chums for a little scientific research. All animals are equal, but some animals are more equal than others, as George Orwell observed.
The Arizona Game Department's ill-advised self-promotion in connection with the initial capture has also had the untoward effect of unleashing the animal loving, enviro whackjobs, resulting in protests and (naturally) a memorial service for the dearly departed tigre.
22 Feb 2009


Arizona Game and Fish photo
Contrary to widespread reports of the big cat's extinction in the United States, a live jaguar was photographed in Arizona in 2006.
Jaguars really do survive in today's Arizona, as this news item from the LA Times confirms.
Erecting that border fence could have the highly undesirable impact of eliminating access to Arizona from their primary breeding source in Northern Mexico resulting in the real extinction in this country of one of our most exotic and charismatic big game species.
A jaguar was captured southwest of Tucson this week during an Arizona Game and Fish Department research study. The study was actually aimed at monitoring black bear and mountain lion habitats.

The male cat has been fitted with a satellite tracking collar and released. The collar will provide biologists with location updates every few hours and it is hopeful that this data will provide information on a little-studied population segment of this species. This is the first time in the U.S. that a jaguar has been able to be followed in this manner.

"While we didn't set out to collar a jaguar as part of the research project, we took advantage of the important opportunity," Terry Johnson, Arizona Game and Fish dept. endangered species coordinator, said in a press release issued by the department.
Arizona Game and Fish press release.
Hat tip to Reid Farmer via Karen L. Myers.
11 Oct 2006

The New York Times (10/9) describes recent new photographs, and predicts the erection of the 700-mile Fence would result in the elimination of the jaguar in the United States.
Using the same clandestine routes as drug smugglers, male jaguars are crossing into the United States from Mexico.

Four of the elusive cats have been photographed in the last decade — one as recently as last February — in the formidable, rugged mountain ranges of southeastern Arizona and southwestern New Mexico.

And while no one knows exactly how many jaguars are here, or how long they hang around before sneaking back to their breeding grounds in Mexico, their presence has set off repercussions on both sides of the border.

At least 10 organizations are working to protect the jaguar in one or both countries. Conservationists are developing incentives to stop bounty hunters in Mexico from killing the big cats. Cameras have been set up near the border to monitor jaguar comings and goings and, inadvertently, the movements of "mules," or drug runners.

Some environmentalists are pressing federal officials to declare parts of Arizona and New Mexico critical habitat for jaguars. But local ranchers and many jaguar experts say such a move is unnecessary because the animals show no signs of breeding here.

And then there is the fence. If the Border Patrol builds a 700-mile barrier in the region to deter illegal immigration, the natural corridors used by jaguars and other migratory wildlife will be cut off.