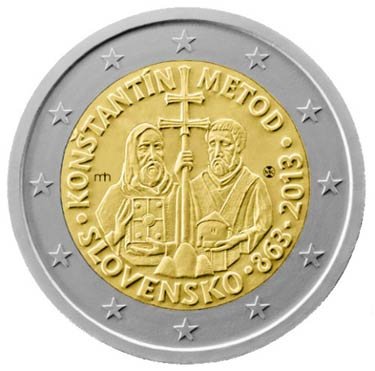 The religious-symbol-neutered version previously scheduled for production.
After strong objections by the Catholic Church which were taken up in the national parliament of Slovakia by the Christian Democratic Movement (KDH), Slovak Democratic and Christian Union (SDKÚ) and some representatives of the Ordinary People and Independent Personalities (OĽaNO) caucus to the elimination of halos from the heads of Sts. Cyril and Methodius and the removal of the image of the cross from the saints' vestments, the Board of Directors of the National Bank of Slovakia has announced that the halos and crosses will be restored on the 2-Euro coins scheduled to be released in 2013 to commemorate the 1150th Anniversary of the Mission of Cyril and Methodius to the Slavs.
Slovak Spectator reported, however, that restoring those halos might preclude the Slovakian €2 coin being released throughout the European Union.
The NBS [National Bank of Slovakia, country's central bank – ed. note] Bank Council approved the original proposal of the design, even though it realises that the new approval process may lead to frustrating the original goal of releasing the commemorative coin throughout the 17-nation eurozone," said spokesperson for the bank Petra Pauerová, as quoted by TASR.

The European Commission earlier stated that the commemorative coin cannot contain crosses and halos in order to observe the principle of religious neutrality in the European Union. Later it was revealed that it was not the EC as such, but certain eurozone members that objected to releasing the coin with religious symbols.
—————————-
The same paper separately identified the countries who had a problem with Christian saints being depicted with such particularist Christian symbols as halos and crosses/
It was certain eurozone member states that expressed disagreement with the original artistic proposal for a Slovak commemorative coin depicting Saints Cyril and Methodius with crosses and halos set to be released in 2013, Andrej Králik from the Representation of the EU Commission in Slovakia said on Thursday, November 22.

The commission subsequently asked Slovakia to submit a modified proposal, which was later approved by the EU Council, Králik told the TASR newswire. He rejected statements by certain Slovak politicians who said that the case involved a 'dictate of Brussels' and 'high-handedness of officials from the EU Commission', describing these assertions as untrue and deceptive.

The commission stated that the removal of the religious symbols was due to the need to observe religious neutrality, as set out in the Charter of Fundamental Rights of the EU. German MEP Martin Kastler earlier on Thursday revealed that the countries that had raised objections to the original Slovak proposal were France and Greece