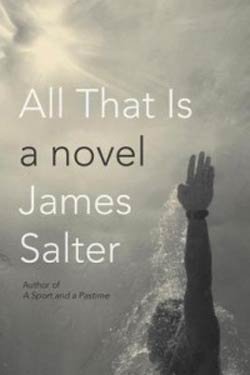 It has been more than 30 years since James Salter, whom I consider a quite interesting writer of the second rank, published his last novel. The publication of his new book has provoked frequent observation that Salter is really a much better writer writing more substantive and thematically worthy of attention novels than certain better-known establishment writers of fiction, but his work has, for five decades now, somehow mysteriously escaped wide attention.
The new novel is certainly not a masterpiece, but it is a very satisfactory read. It reminded me of John Marquand. The protagonist, Phillip Bowman, serves as a young naval officer in WWII, attends Harvard, and then becomes an editor in a NY publishing house. He marries a young woman out of the same Virginia equestrian circles I currently frequent, and Salter delivers a quite accurate portrait of the Virginia Hunt Country and its unique ethos. The marriage fails for reasons that are not entirely clear. The problem is apparently simply the fact that Bowman takes her away from Old Virginia and moves her to New York where she is obliged to live without horses and hunting and her family and home society. Bowman goes on without excessive perturbation to have other relationships and affairs. He meets a woman returning on a flight from Europe. They share a taxi, and ultimately live together. But she, too, leaves him, and opportunistically gains ownership of the house he purchased for their use by means of legal chicanery. A good while later, he runs into his former lover's daughter, whom he had known when she was a child. He is friendly, dismissive of the wrong her mother did him, and he proceeds to take advantage of the opportunities which present themselves to make love to her. He persuades her to let him take her on a trip to Paris, where he shares with her his sophisticated knowledge of the city and its restaurants and Picasso's paintings of Marie-Thérèse Walter, and skillfully makes love to her. When he has finally succeeded in bringing her to the peak of erotic fulfillment, he calculates that she will, before very long, come to her senses about the enormous gap between their ages and the unsuitability of their relationship. He then simply walks out, paying the hotel bill, and leaving her penniless in Paris, knowing full well that she will have to seek the assistance of her mother. The reader is likely to think Phillip Bowman cruel. Like Marquand, Salter writes basically about what he knows, and tends to present fictional versions of himself, portraits of the gentleman of accomplishment, the cynical and astute observer of society and humanity, and the homme moyen sensual, the connoisseur of sexual relationships and the female body.
"All That Is" is a novel about love, but Salter's view of love is appreciative yet unsentimental. Phillip Bowman is grateful for the female companionship that life brings his way, but he is not wildly optimistic about his own motives and capacity for enduring affection or those of any of his successive string of partners. For Salter, love is always, as the title of an earlier novel put it, A Sport and a Pastime.
There was this count, and his wife said to him one day that their son was growing up and wasn't it time he learned about the birds and the bees? All right, the count said, so he took him for a walk. They went down to a stream and stood on a bridge looking down at peasant girls washing clothes. The count said, your mother wants me to talk to you about the birds and the bees, what they do. Yes, father, the son said. Well, you see the girls down there? Yes, father. You remember a few days ago when we came here, what we did with them? Yes, father. Well, that's what the birds and the bees do."