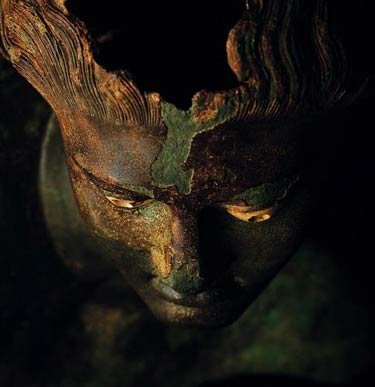 Dancing Satyr of Mazara del Vallo, fourth-century B.C., Greece
The over-lifesize Dancing Satyr of Mazara del Vallo is a Greek bronze statue, whose refinement and rapprochement with the manner of Praxiteles has made it a subject of discussion.

Though the satyr is missing both arms, one leg and its separately-cast tail (originally fixed in a surviving hole at the base of the spine), its head and torso are remarkably well-preserved despite millennia spent at the bottom of the sea. The satyr is depicted in mid-leap, head thrown back ecstatically and back arched, his hair swinging with the movement of his head. The facture is highly refined; the whites of his eyes are inlays of white alabaster.

Though some have dated it to the 4th century BCE and said it was an original work by Praxiteles or a faithful copy, it is more securely dated either to the Hellenistic period of the 3rd and 2nd centuries BCE, or possibly to the "Atticising" phase of Roman taste in the early 2nd century CE. A high percentage of lead in the bronze alloy suggests its being made in Rome itself.

The torso was recovered from the sandy sea floor at a depth of 500 m (1600 ft.) off the southwestern coast of Sicily, on the night of March 4, 1998, in the nets of the same fishing boat (operating from Mazara del Vallo, hence the sculpture's name) that had in the previous year recovered the sculpture's left leg. …

Restoration at the Istituto Centrale per il Restauro, Rome, included a steel armature so that the statue can be displayed upright. … [I]t is on permanent display in the Museo del Satiro in the church of Sant'Egidio.
Via Ratak Monodosico.