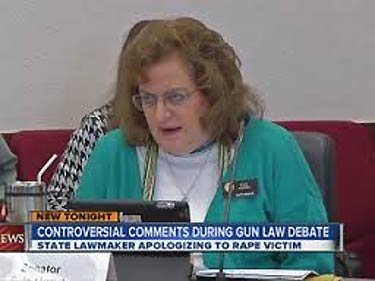 Senator Hudak contemptuously rejects a rape victim's observation that she might have been able to defend herself if she had been carrying her weapon.
Rather than face a recall election, Colorado Senator Evie Hudak has decided to resign. (Town Hall)
After seeing two of her Colorado colleagues recalled over anti-gun votes, Democratic State Senator Evie Hudak, will submit her resignation.

Hudak will hold a news conference Wednesday morning at the Arvada Library.

"By resigning I am protecting these important new laws for the good of Colorado and ensuring that we can continue looking forward," Hudak wrote in her resignation letter in regard to her gun votes, which led to the recall effort.

Proponents of the recall have until early next week to submit about 18,900 valid signatures to the secretary of state's office. If enough signatures are valid, Hudak would be the third Colorado lawmaker to face a recall election this year because of her support for tougher gun laws.

Earlier this year, Colorado State Senator Angela Giron and Senate President John Morse, both from blue districts, were recalled and replaced with Republicans.
———————————–