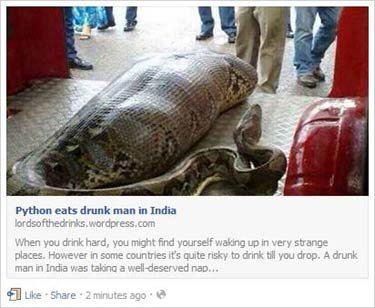 Intriguing picture, currently on Push the Movement, but it has apparently been circulating on the Internet for a couple of years with a variety of attributed locations, so the "drunk man" part and the "India" part are almost certainly not true.
Urban Legends:
Depending on which version of the story you read, the overstuffed python above swallowed a drunk guy in India, an unknown woman in South Africa, an unknown man in Qujing, China, a person of unknown gender in Indonesia, or a 4-year-old child in Malaysia.

All of the above can't be simultaneously true, obviously. The photo, which I've not yet been able to trace to a definitive source, has been circulating online for at least two years and more likely than not documents a python digesting a goat or a deer.