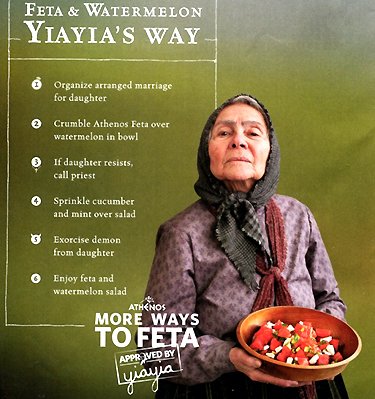 One of Andrew Sullivan's readers got his knickers in a twist over the above Athenos feta cheese advertisement.
I received my August Bon Appetit magazine and as usual, eagerly sat down to read it as soon as it was delivered. I was dumbfounded when I came across this advertisement. To me, it seems like an overt case of ethnic stereotyping. I can understand the use of a traditional "yiayia" figure to advertise Greek food products, but to also have her include arranged marriage and exorcism on her to-do list seems outrageous. And oh yes, there are others ads in a similar vein – apparently in one, the yiayia calls her granddaughter a "prostitute."

When I went to Athenos website and Facebook page, I am clearly not the only person who is offended by these ads. Athenos' explanation (and boilerplate response to Facebook posts) is that they "didn't intend to offend anyone" and were trying for a lighthearted approach, using a character "set in the old ways." Apparently that means the traditional yiayia is a disapproving grump, putting her seal of approval only on the Athenos food items. As one of the Facebook commenters (with a Greek surname) said: "The only thing my yiayia would force anyone to do is eat a big plate of food." I don't know what is more offensive to me – the ad campaign, or Athenos' dismissive "we didn't mean to be offensive" responses.
In the culture that reads Bon Appetit magazine, the culture of the progressive and aspirative crowd, which is determined even to maximize its enjoyment of its carefully calorically-and-nutritionally-calculated diet, transgressive humor aimed at traditional religion or at Republicans is worthy of federally subsidized art exhibitions, but… try indulging in some affectionate humorous ethnic stereotyping, and that sense of humor vanishes and you are dealing with the Grand Inquisitor.