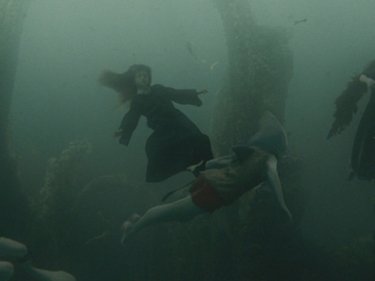 Mallory Ortberg's Randian Harry Potter is back.
The merpeople brandished their spears fiercely. Harry looked around. Ron, Hermione and Gabrielle Delacour drifted lazily through the water, arms bound uselessly behind their backs. Where was Fleur? And where was Krum?

Harry turned to face the merpeople. "The true test is not whether a Triwizard Champion can perform an act of charity — an act of mercy — whether I am capable of saving these victims, these leechers, these children. I can, I assure you. The question is whether I can do without them, whether I can exist solely as my own entity. Whether I can perform an act of accomplishment."

Harry carefully began placing the heaviest stones he could carry over the rope connecting Ron and Hermione, until they were hopelessly enmeshed in the lake bed.

"The answer, of course," he said clearly, "is that I can." He swam away. He swam alone. He had lost the task, perhaps, but he had won the only tournament that truly matters — the tournament of self.

"I hope you're not expecting me to apologize," Harry said without looking up the next day when a very muddy and a very angry-looking Ron and Hermione appeared in front of the door to his study. "And don't come any closer. You'll track lake water all over my new rug."
Hat tip to Leah Libresco.