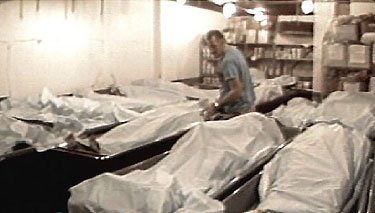 For the morbid, those yearning to be horrified, or the merely curious, the New York Post reviews, Working Stiff, the memoir of New York Medical Examiner Judy Melinek (written with T.J. Mitchell).
Some of the deaths described are Darwin Award winners, others (like the chap tossed down an open manhole who landed in a pool of boiling water) are absolutely bloodcurdling to contemplate, while others are merely anecdotally intriguing.
There was the subway jumper at Union Square, for example, whose body was recovered on the tracks of the uptown 4 train with no blood — none at the scene, none in the body itself. She'd never seen anything like it, and only CME Hirsch could explain: The massive trauma to the entire body caused the bone marrow to absorb all the blood.

"Everyone in the room agreed," Melinek writes, "that I had the coolest case of the day."

Finding a bullet for a gunshot wound, meanwhile, can be particularly baffling. Melinek says her favorite is "bullet embolus": "A slug enters the beating heart at just the right spot and with precisely enough momentum to get flushed into the circulatory system, then surfs through smaller and smaller vessels until it gets stuck somewhere far removed from its point of entry."

In one case, a man was shot in the chest, but the bullet was found in his liver.

During her tenure, the most popular suicide spot in New York City was the atrium in Times Square's Marriott Marquis hotel. Melinek autopsied two jumpers: One, a 26-year-old man, leapt from the 43rd floor.

His right arm and left leg were recovered on the 11th floor, his other two limbs on the seventh floor, and part of his skull wound up in the elevator shaft.

Her other jumper, also a man, jumped from the 23rd floor. One leg was found on the 10th floor, his torso on the ninth.

"I suspect these people imagine they are going to plummet gracefully down and land with a melodramatic thump in the lobby," Melinek writes, "but I never saw that result. The ones I saw had pinballed off a variety of jutting structures on the way, each impact causing damage to a different plane of the body. Not graceful at all."
Read the whole thing.