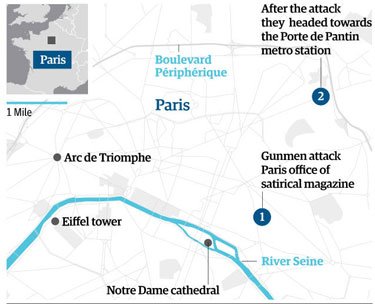 Three Islamic gunmen armed with fully-automatic AK-47s walked into the Paris offices of the French satire magazine Charlie Hebdo around midday today and opened fire, killing at least twelve people. 10 journalists and two police officers were killed, and another five people were seriously injured. The shooters were picked up by a getaway car driven by a fourth terrorist. The killers then drove to Porte de Pantin in north-east Paris, where they abandoned the first automobile and hijacked another car.
Guardian story.

———————————–
TIMELINE OF PAST EVENTS

Mohammed Overcome by the Fundamentalists
8 February 2006: Charlie Hebdo republishes the Danish Mohammed cartoons, adding its own "It's a Drag Being Loved By Idiots" cartoon as a commentary on the cartoon controversy.
———————————–

"Charlie Hebdo Must Be Veiled!"
7 February 2007: Charlie Hebdo and its's publication director Philippe Val went on trial before the Correctional Tribunal of Paris
facing accusations by Islamic Organisations of France and the Grand Mosque of Paris that reprinting the cartoons was a violation of French laws prohibiting "publicly slandering a group of people because of their religion." The charge carried a possible six-month prison sentence and a fine of up to $28,530.
———————————–
22 March 2007: Charklie Hebdo & Philippe Val acquitted.
———————————–

Translation: "One hundred lashes if you don't die laughing!"
2 November 2011: Charlie Hebdo intended to commemorate the Islamic victory in the elections in Tunisia by temporarily renaming itself "Sharia Hebdo" and appointing the Prophet Mohammed "guest editor" and putting his portrait again on the cover.
The "Sharia Hebdo" edition had not even appeared, when during the night the paper's Paris offices were fire-bombed and its web-site attacked and taken down.
———————————–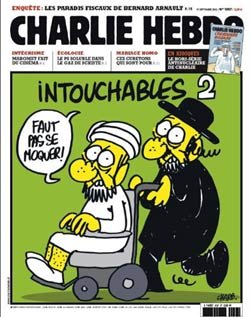 Captions: "Untouchables 2 — Must Not Mock"

Captions: top: "The film which embarrassed the Muslim world." Mohammed says: "And my buttocks. Do you like my buttocks?" below: "Mohammed a star is born!"
19 September 2012: France closed 20 embassies and Charlie Hebdo's web-site was shut down and its offices surrounded protectively by riot police after the magazine published its raunchiest Mohammed cartoons yet.