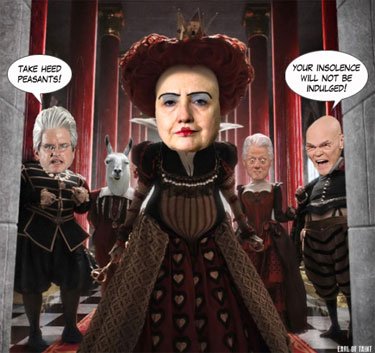 As Hillary's fortunes decline, Kevin Williamson volunteers to write Hillary's epitaph for her.
Bill Clinton won because he was always winning; if Hillary Rodham Clinton has lost, it is because she is losing.

President Clinton had a diabolical knack for turning his self-inflicted problems into referenda on the moral standing of his opponents, or of anybody who happened to be convenient for the purpose; thus the Monica Lewinsky scandal became a question not of the president's venality in the Oval Office and elsewhere or of his consequent crimes — perjury, etc. — but a public trial of Kenneth Starr for the crime of being a buzzkill. Everybody — everybody, friend and foe — knew that President Clinton and his minions were lying about the matter, but the Democrats place an extraordinary value on cleverness: They are the party of the student council, and Bill Clinton has spent 50-odd years proving to the world that he is the cleverest boy at Hot Springs High School, and his admirers loved him not in spite of his gross opportunism and dishonesty but because of those very things. Finally, the Democrats rejoiced, a man who can show those Republicans for the unsophisticated, unclever fools that they are! Mrs. Clinton is at the moment looking somewhat short of clever. President Clinton not only survived his worst scandal but positively thrived off it, because his response hit his conservative tormentors in their most vulnerable spot: their reputation for being scolds and prudes, hypocritical sexual obsessives, etc. Mrs. Clinton's response to the e-mail controversy, conversely, finds her repeatedly punching herself in her political nose, giving the impression that she is too old and out of touch to understand how e-mail works, that she is curdled, that she is the unslick half of the couple, that she does not have what it takes to do what her husband did to his rivals. She isn't winning because she does not look like a winner to Democrats seeking a champion.
Read the whole thing.