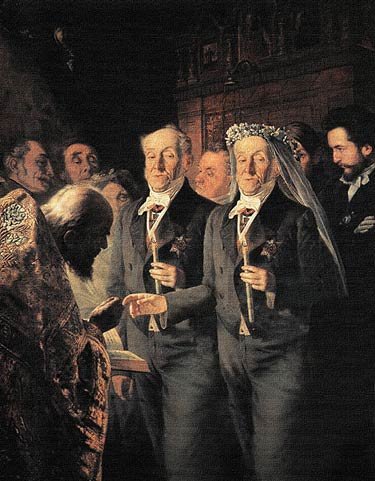 Photoshopped version of: Vasili Pukiriev, Неравный брак [The Unfitting Marriage], 1862
In the course of revelling over the referendum victory of sodomitical matrimony in Ireland, the editorial board of the New York Times proved that the appointment of Caligula's horse as Roman consul could actually be outdone in modernity.
In a statement conceding defeat, the Iona Institute, the main opposition group, said it would continue to affirm "the importance of biological ties and of motherhood and fatherhood." The absurdity of that statement speaks for itself.
The alleged absurdity of that statement may be obvious to deranged (and probably sexually perverted) members of a community of fashion in the last stages of decadence, but normal people would describe a reference to "the importance of the biological ties of parenthood" as patently obvious, rather than absurd.
The unlimited arrogance and egomanaical grandiosity of these kinds of people, who routinely demonstrate their own total moral and intellectual unfitness for any positions of influence or responsibility, cries out to heaven for vengeance.