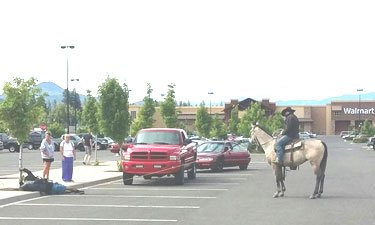 An attempted bicycle theft in a Walmart parking lot was foiled by a cattle rancher on horseback, who chased the thief down and lassoed him until the local police in southern Oregon could arrive.

The bicycle was stolen from a bike rack outside a Walmart in Eagle Point, a town about 170 miles south of Eugene, Oregon, at around 10amon Friday morning. The woman who owned the bike and several others gave chase on foot but were unable to catch him.

Then a rancher named Robert Borba brought his horse out of its trailer, mounted up and chased the thief down, according to Chris Adams, an officer with the Eagle Point police who responded to the 911 call about the theft.

"When we arrived, there was a large crowd standing around a younger gentleman who was on the ground, the rope around his ankle, hanging on to a tree," Adams said. Victorino Arellano-Sanchez was arrested and charged with theft, the police said.