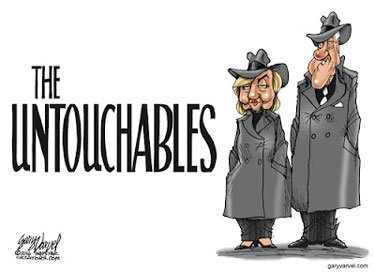 Red State explains how the Justice Department two-step worked:
James Comey was facing a revolt among his professional staff. If the case were sent to Lynch for adjudication, which is the usual process, the story would be that the FBI had "cleared" Clinton and therefore Justice was closing the case. In this case, Comey knew that one or more of his senior people, in order to defend the FBI, would either walk (unlikely because no one has principles that are going to cost them a six-figure income) or leak like a sieve (highly likely). This would make Comey the bad guy. It would make him corrupt to the core instead of merely the feckless p***y he's has been revealed to be.

Unable to go for prosecution, because that would have required integrity, and fully aware that taking a pass on the case would make her unemployable as anything other than a punchline in political jokes for the next generation, she needed to unload this particular ticking time bomb. Unfortunately, she had no real reason to recuse herself from the process as her department was overseeing the case.

Enter the "chance meeting." Last week this looked like one of the most boneheaded moves ever made by an attorney general. It turned out to be an inspired bit of political theater. This enabled Bill Clinton to throw his old friend a lifeline. By meeting informally and in near secrecy with Clinton, Lynch suddenly had a reason to essentially recuse herself from the case by "accepting the FBI's recommendation." …

By deferring to the FBI recommendation, Lynch has pinned the bull's-eye firmly on Comey and his senior leadership.

Thus we have the FBI Director rendering a scathing public indictment of Hillary Clinton is every particular of the case. In fact, he goes out of his way to demolish everything she has said. And then he, Pontius Pilate-like, walks away leaving the American founding concept of the rule of law in utter shambles.