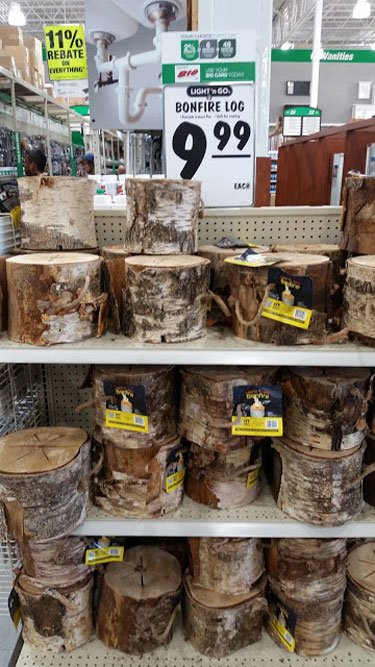 B:
Not sure what bothers me more……

The fact that Menards thinks they can sell 8″diameter/9 inch high logs for $9.99….

Or that I saw some hipster in fake work boots loading 4 into his cart.
Or 1) that these are unsplit and so large in diameter that you will have to have a fire already going well with a good bed of coals before there is any possibility of getting any of them lit. They are too short for a fireplace and they all need to be split.
and
2) They are all birch (!). Get one of these logs lit finally, and poof! it will be gone in a ridiculously short interval of time.
Not only are these pieces of alleged firewood ridiculously priced, they are useless as firewood.
Via Vanderleun.
———————
UPDATE AND CORRECTION:
Commenter Hammond Aikes knows more about these than I did. I thought they were just logs. But "Bonfire Log" is a brand name. They are actually chemically-treated artificial logs, which will light readily and burn 1 1/2 hours in the Regular size, 2 1/2 hours in the Jumbo.