17 Jul 2019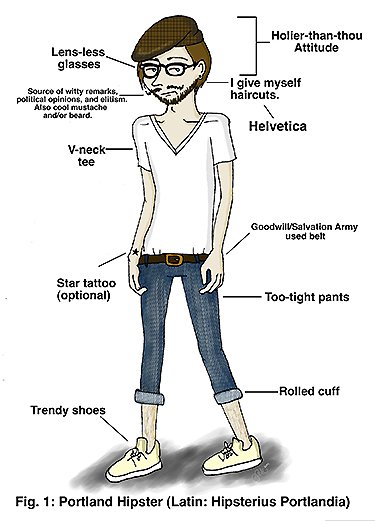 Nancy Rommelman notes how, in Portland hipster culture has turned downright totalitarian and urges caution, lest Portalandization come to your own neighborhood.
I have a friend, let's call her Karen. Karen bootstrapped several Portland businesses, including a coffee shop. She walks in one day and the barista, who is trans, says she had a man come in earlier wearing a MAGA cap and is she obliged to serve people like him? Karen asks, did he say something to you? No, says the barista, but he's a white supremacist. Karen tells her, first, you don't know that, and second, you cannot discriminate based on the way someone is dressed. And that, Karen thinks, is that, but no, the barista relays the story to another barista we will call Jen, who goes onto Facebook and posts, "My boss Karen is a Nazi." Karen learns of this while she is on vacation. She calls her manager and tells her to get Jen into the office. Jen may intuit as much, as when the manager says she needs to speak with her, Jen gets on the floor behind the espresso bar and curls into a fetal position. And you might think, if anyone should maybe not be in customer service, it's Jen, but no, people prove sympathetic to her and the other barista's fears and start an online inquisition and can Karen prove she is not a Nazi? And should she not be more concerned with the safety of her employees than some random Republican wanting a cup of coffee?

By 2017, some defenders of diversity and safety were learning how variously those concepts could be construed, could bring the future they wanted a little closer; could be fashioned into tools that got the job done. Sharp tools would be used to cut out those deemed a threat to inclusivity, including two girls who during a road trip in Mexico fell in love with the tortillas made by local cooks. The girls were young, and snoopy, and hung around the cooks until they learned the techniques. Once back in Portland, the girls told the paper Willamette Week, they scraped together enough money to open Kooks Burritos, a food cart they shut for good later that week after receiving multiple death threats due to their not being Mexican and thus, according to the alt-weekly blog post that incited a campaign against them, having no right to make Mexican food.

Week after week people of color in Portland bear witness to the hijacking of their cultures, and an identifiable pattern of appropriation has been created … After the fury continued online, a different resource emerged and quickly went viral: a Google doc showing exactly how prevalent this epidemic is. The list titled "White-Owned Appropriative Restaurants in Portland" provides a who's who of culinary white supremacy.

I'd cite more of that post, clipped here from a Willamette Week follow-up, but when you go to the Portland Mercury website, you get the following message:

Dear readers: Due to new information that has recently come to light, we have taken down our blog post, "This Week in Appropriation: Kook's [sic] Burritos and Willamette Week." It was not factually supported, and we regret the original publication of this story.—eds.

Too late to help the Kooks' girls, but, oh well. As for that restaurant list, that's been deleted, too, which shows me people are not willing to stand by their weapons of destruction, and also, that Portland is pulling off the pretty slick trick of beaming to the world an image of tolerance and inclusion, while concurrently denying certain of its citizens a place at the table. That's some scary-strong juju, and maybe one best kept in check lest exclusionary tactics be taken for progress, be enshrined by some centralized authority.