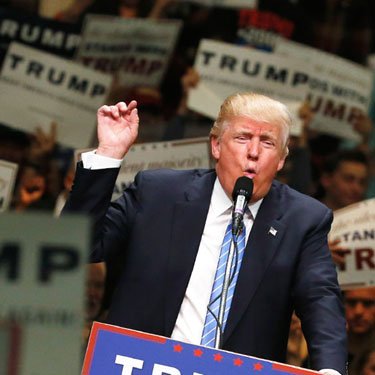 Let's see, this week, Donald Trump continued his public attacks on the family of a Muslim US Army Captain killed while serving in Iraq.
Trump made it clear that he is uninterested in GOP unity by announcing specifically that he is not supporting Paul Ryan or John McCain.
Airing of the famous Daisy political commercial by Democrats was made redundant when some source within the Trump Campaign leaked to Joe Scarborough the unsettling information that Donald Trump asked an unidentified foreign policy expert engaged in advising him, three times, why the US could not use nuclear weapons. That one made headlines all day yesterday.
The same RNC bigwigs who suppressed opposition and rammed the Trump nomination through the Convention two weeks ago, this week, are reportedly panicking.
Reince Priebus is described as "very frustrated" and "stressed," because he is "running out of excuses" to offer party bigwigs about Trump's political incompetence and indifference to basic political norms. Republicans are panicking because Trump is frittering away a chance to defeat Hillary Clinton amid "self inflicted mistakes" and "missed opportunities."
Trump is sinking in the polls. Even Fox News is giving Hillary a ten-point lead.
And it's only the beginning of August. The boxcar-loads of opposition research the Dems and their media allies have been saving up are still just sitting there, waiting to be unloaded and fired.
We are faced with two possibilities: either Donald Trump is such a spoiled and totally-deranged sociopathic narcissist that he is out of touch with reality, unadvisable and uncontrollable, and his personal dementia is causing him to self-destruct in the course of the campaign, or the Clinton-Trump Conspiracy Theory, the hypothesis that Trump was put up to all this by Bill Clinton as a diabolically-clever, Hail-Mary-Pass strategy to sabotage the Republican Party's nominating process and elect the hideously-unpopular Hillary in what-ought-to-have-been a Republican landslide victory year, is really true.
(NYM contemplated the Conspiracy theory as far back as February and found further evidence in May.)
There is no way to know the truth at present, but it's going to be interesting to watch events unfold.
Either way, whether Donald Trump is simply so nutsy-cuckoo that he can't help sabotaging himself, or whether he is throwing the election deliberately and intentionally, it is a sad commentary on all those loco-in-the-cabeza Trumpshirts out there that they have been themselves barking mad enough to pin their hopes and lend their support to a totally-unqualified, ethically-challenged, blowhard millionaire, who is dubiously Republican and obviously anything but a principled conservative. Don't blame National Review or the Conservative Movement for electing Hillary, when it was you who rejected all the decent, rational, conservative, and qualified GOP candidates and went whoring after a Reality-TV Celebrity Clown with a big mouth and a handful of airy promises and crackpot policy positions.