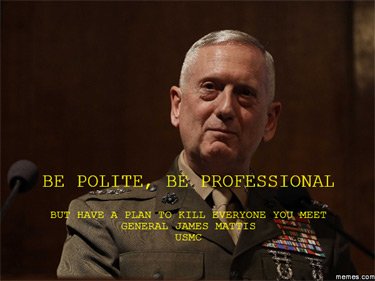 Duffleblog (the military humor site):
Millions of members of the U.S. military are frantically Googling where the Secretary of Defense sits in the line of succession to President of the United States, sources confirmed today.

The more than two million Google searches for terms such as "where is SecDef in succession order" and "can SecDef be promoted to president" came just hours after it was learned that retired Marine Gen. James Mattis would be named to lead the Department of Defense.

Mattis, 66, has been tapped by President-elect Donald Trump to head the department, which has been plagued by low morale and expensive cluster-fuck weapons systems, such as the F-35. He's expected to easily boost morale, but attempting to fix DoD bureaucracy may be beyond even Mattis' abilities.

When asked how Pentagon procurement could be fixed, for example, even God declined to answer. Instead, the Almighty referred all further questions to Lockheed Martin, Boeing, and General Dynamics.

If confirmed, Mattis would need to simultaneously take out the Treasury Secretary, Secretary of State, President pro tempore of the Senate, the Speaker of the House, the Vice President, and the President, in order to assume the highest office in the land.

According to sources, he already has a plan to do just that, which he wrote in 2003. He later stashed the plan in the drawer of his nightstand, on which his concubine places a breakfast shake mix of Jack Daniels and Creatine each morning. A person familiar with the plan said that Mattis mostly uses his bare hands, though he often carries multiple guns, knives, and sharp sticks on his person.

Experts say that Mattis dropping six people who have no military training would be a "walk in the park," compared to his usual average of 12 kills per day. They went on to say that Mattis exterminating a bunch of tubby civilians would be roughly equivalent to him taking a bath or making toast, in terms of difficulty.
Read more.