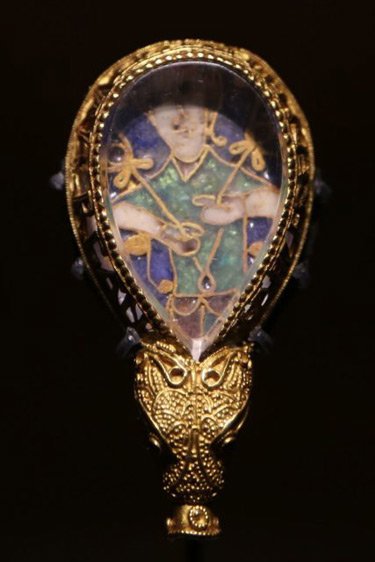 One of the most mysterious and celebrated treasures from Anglo-Saxon England, the Alfred Jewel is believed to be more than 1,000 years old. It was discovered in 1693 in a field at North Petherton, Somerset.

Made of enamel and quartz, this remarkable jewel was made in the reign of Alfred the Great with an inscription "AELFRED MEC HEHT GEWYRCAN" which means "Alfred ordered me made." It is an unusual example of Anglo-Saxon jewelry because it begs all kinds of questions about where the materials came from.

The two-and-a-half-inch long jewel made of filigreed gold has an image of a man, which many historians believe is a picture of Christ. Shaped like a teardrop, it was once believed that this jewel was a pendant worn around the neck. However, this would mean that the image of Christ would be permanently hung upside-down.

Another theory is that it might have been the centerpiece of a royal crown but the setting seemed inappropriate for that purpose. According to Webster, the back of the jewel is a flat gold plate which is engraved with either a plant motif or an image of the Tree of Life.

Over the years, many suggestions have been made about the function of this jewel. The most common is that it was a pointer to use for reading manuscripts. It is assumed that it may have been Alfred's gift to the abbey, which he founded at Athelney in 878 after his defeat of the Vikings.

A description of the jewel was first published in the Philosophical Transactions of the Royal Society in 1698. Colonel Nathaniel Palmer bequeathed the jewel to Oxford University and it was on display in the Ashmolean Museum in Oxford. In 2015, after 297 years away, the Alfred jewel was put on display for one month at the Museum of Somerset, Taunton Castle.