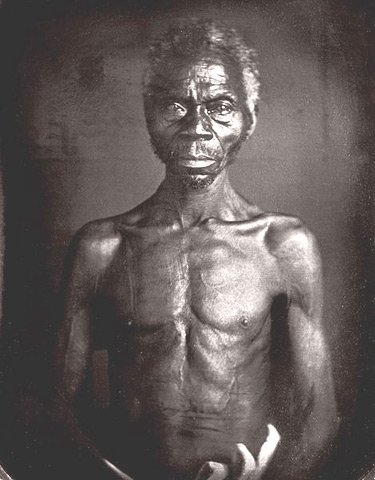 J.T. Zealy, Renty, A Congolese slave on plantation of B.F. Taylor, Columbia, S.C., Daguerrotype photograph taken for Louis Agassiz's study on Polygenism, March 1850.
Harvard Magazine reports that Harvard recently invited professional race-baiter Ta-Nehisi Coates to deliver the keynote address at a day-long liberal guiltfest over the century-and-a-half extinct institution which (regrettably) brought Coates' ancestors to American shores.
The above 19th century daguerrotype served as poster-image for the conference because the wicked and nefarious naturalist Louis Agassiz, while working at Harvard, had caused that image to be captured for use in his studies of taxonomy and human etiology. That racist bastard Agassiz working in the first half of the 19th century (Can you imagine?) actually took the differences in skin color and physiognomy exhibited in this image as evidence supporting a significant taxonomic distinction between Sub-Saharan Africans and Europeans.
The audience of Harvards trembled guiltily on their seats as Ta-Nehisi Coates demanded reparations, telling his open-mouthed listeners that "We talk about enslavement as if it were a bump in the road. And I tell people: it's the road. It's the actual road."
Daniel Coquillette, Harvard Law School's Warren visiting professor of American legal history, and the author of the 2015 book, On the Battlefield of Merit: Harvard Law School, the First Century, gave an account of Isaac Royall, whose bequest led to the 1817 founding of the law school and whose newly revealed slave legacy roiled the campus last year with intense protest and controversy. A West Indian planter and strikingly cruel man, Royall owned a sugar plantation on the island of Antigua during the eighteenth century. Sending gasps through the audience, Coquillette described how Royall brutally suppressed a major slave revolt there in 1736. More than 350 slaves had mobilized, but "at the last moment," Coquillette said, they were betrayed. After it was over, 77 slaves were burned at the stake, and six others were drawn and quartered. The leader of the uprising, a slave named "King" Court, was gibbeted alive.

Following student-led protests, organized under the name Royall Must Fall, the law school decided last spring to change its shield, which was based on the Royall family crest. At the same time, professor Janet Halley, who is the school's Royall professor—one of the country's oldest named chairs—began taking first-year law students on tours of the slave quarters at Royall's home in Medford, as a way of engaging the University's heritage.
Read the whole thing.