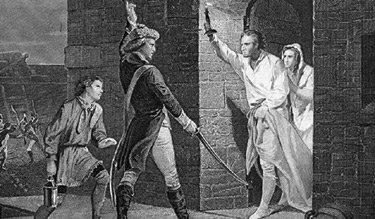 Ethan Allen (a rebel) demands the surrender of Fort Ticonderoga, "In the Name of the Great Jehovah and the Continental Congress!"
It's easier to understand why South Carolina and other Southern States desired to secede and get away from ideologically-crazed crybully left-wing Abolitionists. The Civil War has been over for more than a century and a half. The North won. Slavery was abolished. The South was invaded, burned, conquered, occupied and forcibly Reconstructed.
The Secessionists are dead, ask a college student about the Battle of Gettysburg and he'll say: Huh? but today, the Left has resumed fighting. Monuments to Southern heroes are being removed, the Confederate Battle Flag (now, really just an amorphous symbol of undefined Southern geography, Redneck identity, or unfocused rebelliousness) is being outlawed, and even the high school in South Burlington, Vermont, land of Bernie Sanders, has become a New Civil War battleground.
The Wall Street Journal reports:
In 1961, when education leaders in South Burlington decided that a newly built high school should be nicknamed the Rebels, nobody batted an eyelash. After all, this community was founded when it split from greater Burlington about 150 years ago.

Yet this city on the shores of Lake Champlain has never seen anything quite like the current revolt under way. Three months ago, the Board of School Directors decided the Rebels moniker had offensive connotations and, therefore, needed to go.

Those Vermonters who didn't agree with the decision reacted like, well, Vermonters.

"I don't think constantly caving in to political correctness is appropriate in this day and age," says Linus Leavens, a 1972 South Burlington High School graduate and the father of a student there. "I think a lot of America feels that way; there was an election recently that showed that."

In the opinion of Mr. Leavens, a gallery manager for a fine-arts auctioneer, "Vermont has been full of rebels for a long time."

To protest the decision, local opponents have twice helped vote down the nearly $50 million school district budget. Signs saying, "Be a Rebel. Vote No" dotted yards. Plans for a third vote on the budget are in the works.

"I can't remember anything that has caused this much emotion and division." says Diane Bugbee, 52 years old. She has a son who is a senior at South Burlington High and backs a new school nickname. Rebels, she says, has too much baggage: "There are just some things that can't be rebranded."