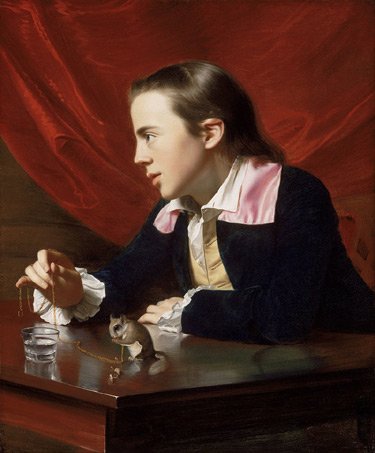 John Singleton Copley, A Boy with a Flying Squirrel. Museum of Fine Arts, Boston.
Atlas Obscura informs us that a once common custom was obliterated by a change in fashion which then became cemented into Progressive Era regulation.
In 1722, a pet squirrel named Mungo passed away. It was a tragedy: Mungo escaped its confines and met its fate at the teeth of a dog. Benjamin Franklin, friend of the owner, immortalized the squirrel with a tribute.

"Few squirrels were better accomplished, for he had a good education, had traveled far, and seen much of the world." Franklin wrote, adding, "Thou art fallen by the fangs of wanton, cruel Ranger!"

Mourning a squirrel's death wasn't as uncommon as you might think when Franklin wrote Mungo's eulogy; in the 18th- and 19th centuries, squirrels were fixtures in American homes, especially for children. While colonial Americans kept many types of wild animals as pets, squirrels "were the most popular," according to Katherine Grier's Pets in America, being relatively easy to keep. …

While many people captured their pet squirrels from the wild in the 1800s, squirrels were also sold in pet shops, a then-burgeoning industry that today constitutes a $70 billion business. One home manual from 1883, for example, explained that any squirrel could be bought from your local bird breeder. But not unlike some shops today, these pet stores could have dark side; Grier writes that shop owners "faced the possibility that they sold animals to customers who would neglect or abuse them, or that their trade in a particular species could endanger its future in the wild."

Keeping pet squirrels has a downside for humans too, which eventually became clear: despite their owners' best attempts at taming them, they're still wild animals. As time wore on, squirrels were increasingly viewed as pests; by the 1910s squirrels became so despised in California that the state issued a widespread public attack on the once-adored creatures. From the 1920s through the 1970s many states slowly adopted wildlife conservation and exotic pet laws, which prohibited keeping squirrels at home.