16 May 2021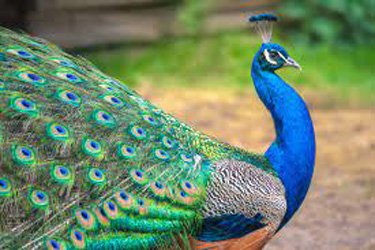 Sean Flynn, in LithHub, discusses the perfectly natural human need for some peafowl strutting about the property, perching in one's trees, lending the desmesne a bit of exoticism and tone, and –of course– screaming their heads off.
My wife Louise had spontaneously volunteered to take a peacock from our friend Danielle because a peacock, in a fundamental sense, is not a bird that one possesses so much as experiences; as with an especially moving work of art, the simple act of looking at it will stir emotions. A peacock, she imagined, would patrol the yard like a sentry in dress uniform, high-stepping through the irises and roosting on the low branches of the cedars or the high peak of the barn. Every so often he would throw up a fabulous spray of feathers for no other reason than to remind us that such a spectacle is possible. It would be inevitable and yet somehow a surprise every time.

That is what one peacock would do, but only one.

Louise did not want Flannery O'Connor's multitudes. She wanted a single peacock, a manageable number proportional to our small phony farm. The property was suitable for a pair of chickens, not a flock, after all, and the paddock was properly sized for a miniature horse, not a Thoroughbred. We were scaled for a solitary peacock, Louise insisted. Three was another matter altogether. A part-time job, she said. A petting zoo.

"You can't have one peacock," I told her on the drive home. "He'd be lonely."
From: Why Peacocks? An Unlikely Search for Meaning in the World's Most Magnificent Bird.

"Cedarhurst," our Southern future retirement home. Ten acres is surely enough to keep the peafowl happy.