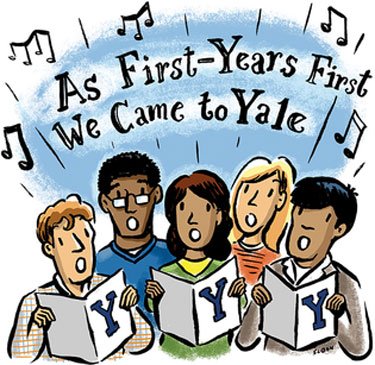 As Freshmen first we came to Yale,
Fol de rol de rol rol rol!
Examinations made us pale.
Fol de rol de rol rol rol!
Chorus:
Eli Eli Eli Yale,
Fol de rol de rol rol rol!
Eli Eli Eli Yale,
Fol de rol de rol rol rol!
A lot of Yale alumni look forward to the bimonthly arrival of the Alumni Magazine with roughly the same enthusiasm with which we look forward to our next dental procedure.
There is always the triumphant announcement of Peter Salovey's invertebrate administration's latest surrender to leftist insanity; accompanied by all the usual gloating over this, that, and the other cases of recent worldly success by this Yale graduate or that one; the advertising columns offering vacation rentals in Tuscany or Provence for thousands a week; and the Class Notes (at my age typically telling you who died).
The Yale Administration is cowardly and conformist, and has no enemies to the Left, but there is still usually in evidence the Yale tradition of competence, particularly in formal areas involving language. Yale's English Department was always traditionally the best in the country.
So, it is even more depressing than usual to learn that the Administration is caving to feminist crackpots and eliminating the word "Freshman." It was not very long ago that every educated person recognized that "man" was in the English language a generic plural for all of mankind, male and female, with no particular offense intended to females, children, hermaphrodites, or the family dog.
It was not very long ago that some belligerent female trying to make an issue out of this particular feature of ordinary language would simply have been dismissed universally as a nuisance and a crank.
All this has changed recently with respect to the very center of the American Establishment. Today, no preposterous complaint, no demand for grotesque change, no utter and complete absurdity emanating from the ranks of society's demoniacs will not be rapidly complied with.
I was marveling over all this, and asking myself how and why this came about, and the best answer I am able to come up with is to echo Bill Deresiewicz's 2008 Essay, which argues that what our most elite schools have evolved into is engines of production of "really excellent sheep."
The radicals are the wolves and Peter Salovey, the rest of the Administration, and the Yale Corporation are all the very best little girls and boys, all with their medals for deportment clinking away, all of them too nice and too tame, domesticated, and civilized to stand up to an adversary prepared to use Alinskyite tactics.
Yale men of yore, the kind of Yalies who won their place on the Fence as Freshmen by physically ejecting the Sophomore Class, the kind of Yalies who used to go out to Dragon led by the Class Bully, wielding his badge of office bully club, to fight with sailors, are extinct. The American elite of today is made up of Deresiewicz's "really excellent sheep," i.e. utterly conformist tools, competent at the job but always with a keen eye fixed completely on the main chance, the kind of people ready to eat any toad required to get ahead.
All you can say is: A country gets the kind of elite that it deserves and God help the country that deserves this elite.
The alumni mag:
Strictly speaking, the term "freshman" became obsolete at Yale in 1969, when women were first admitted as undergraduates. But language moves a little more slowly than reality, so the Yale College Dean's Office only recently resolved to use the gender-neutral "first-year" in official materials. "This has been talked about for years," says Dean of Student Affairs Camille Lizarribar. "We've been asked about it by students and parents, and it's become more and more clear that what you call things does matter." The new terminology will start appearing in Yale publications this fall, but Lizarribar expects that in conversation the two terms will coexist for a while. ("Nobody's going to say, 'Oh my god, you used the wrong word!'") Freshman counselors will be known this fall as first-year counselors, but Lizarribar says the informal portmanteau "fro-co" isn't going anywhere. As for other time-honored phrases of undergrad tradition, we have a feeling it will be case by case.