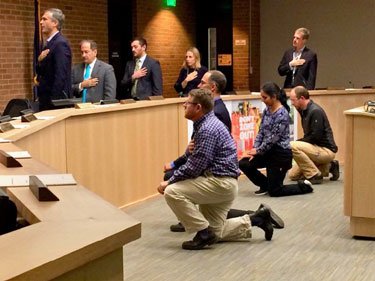 Four city council members in Ann Arbor, Michigan knelt for the Pledge of Allegiance after their meeting was called to order on Monday night.
In the prosperous home of the elite University of Michigan:
5th Ward councilmen Chip Smith and Chuck Warpehoski were joined by 1st Ward council members Sumi Kailasapathy and Jason Frenzel in taking a knee when it came time to recite the Pledge of Allegiance before the city council meeting, M Live reported.

Warpehoski said his decision to kneel was an "act of attention, concern and respect."

"I can't speak to what is in each person's heart, but for me to 'take a knee' is an act of attention, of concern, and of respect," Warpehoski wrote on his website ahead of Monday's meeting and also stated at the meeting. "And it is in that spirit that I take a knee at tonight's City Council meeting: out of respect for the aspiration that we be a nation 'with liberty and justice for all,' with full attention that we fall short of that ideal in many ways, and with humble dedication to continue to work that the promise of the pledge may be fulfilled."

Kailasapathy said during the meeting that she was kneeling for the pledge in order to demonstrate she was committed to upholding Democratic values.

"For me, taking a knee is also showing solidarity with the group of people who have been doing this at the national level," she said.

The demonstrations reflect the NFL national anthem protests that began last year. Former San Francisco 49ers quarterback Colin Kaepernick began kneeling during the national anthem last season in order to draw attention to racial injustice. Some other players in the NFL followed suit, but it didn't become a national phenomenon until late September of this year after President Donald Trump said NFL owners should not tolerate kneeling during the national anthem.
————————————-
Meanwhile incoal mining country, Josh Stowers delivers the national anthem for his workmates before his shift underground in West Virginia every day: