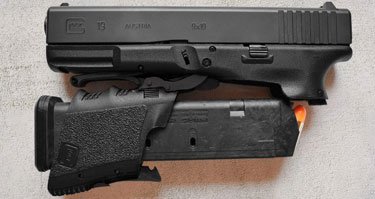 I'm not a fan of plastic pistols, especially the fashionable contemporary versions that come without a real safety. My own opinion is that trigger safeties are basically meaningless, and carrying an automatic pistol with no safety with a round chambered just makes me nervous.
I have consequently never bought a Glock, but now here is a version I would not mind owning.
The Firearms Blog:
Full Conceal is now shipping their Glock 19 folding pistol conversion called M3. The folding mechanism allows having a more compact carry package which in a matter of seconds unfolds and becomes a Glock 19 with a 21-round magazine. The reason why they advertise it with the 22-round capacity (21 round mag plus one in the chamber) is that the 21-round magazine most efficiently fits the slide length neither sticking out nor coming short of the overall length of the folded gun. The M3 pistol is available for purchase on Full Conceal's website for $1,399 (the price includes one Magpul 21-round magazine).

Another important feature of the M3 pistol is the additional safety built into the folding mechanism. When folded, that mechanism blocks the trigger bar preventing any possibility of an accidental discharge when manipulating the folding mechanism. This system allows carrying the pistol with a chambered round being sure that it is safe.

The company also points out that even if the folded gun prints, it will rather look like a cell phone than a firearm. The folded M3 pistol silhouette basically matches the iPhone 7 Plus dimensions.
Get yourself a second magazine, and you'll be all set if you run into an irate Zulu impi.