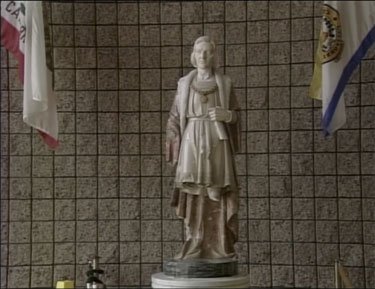 The Hill reports:
The city council of San Jose, Calif., voted Tuesday to remove a statute of Christopher Columbus from the lobby of its city hall.

The council is giving the area's Italian-American community six weeks to relocate the statue, The Mercury News reported. If they haven't done so by then, it will be placed in storage.

"I think everyone's been twisting themselves into pretzels to avoid hurting people," said Mayor Sam Liccardo, according to the news outlet. "Let's stop twisting ourselves. Let's see if we can at last put this behind us and focus on what's positive, and there's a lot positive in our community to honor."

The Brown Berets, a pro-Chicano group, helped lead a push to have the statue removed from public land, calling it "a symbol of genocide" that glorified European colonialism and violence against Native Americans after Columbus's 1492 voyage to America.

"He belongs in history books," Councilwoman Sylvia Arenas said, according to the Mercury News. "I don't believe he belongs in our City Hall."

The statute of the navigator had been vandalized twice. A man once reportedly smashed the statue's face with a sledgehammer while shouting "murderer" and "genocide."
I picture Mayor Liccardo waking up in a blood-soaked bed and finding some Brown Beret heads keeping him company.
What is these beaners' major malfunction anyway? They are Hispanic, for Christ's sake. They should be proud of Columbus who sailed under the Spanish flag. They ought to trace their descent from "stout Cortez" and the Conquistadors. But in our completely screwed-up era, it's victims and whiners who get all the power, so they prefer to consider themselves descendants of human sacrificing savages.