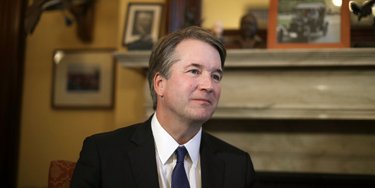 Jonah Goldberg tries to figure out why Brett Kavanaugh has caused the Left to pull out all the stops.
I want to be open-minded. So I will concede that the allegation is not theoretically impossible, given the depths of depravity that humans in every generation and every civilization and at all strata of class and privilege are capable of.

But it would be highly unlikely, to say the least. I say this having some insight, however imperfect, into the social milieu from which Kavanaugh hails. I didn't grow up in Washington, but I did technically go to a prep school.

(My school was not as prestigious as Georgetown Prep. There was always a raging debate about my alma mater: Was it the best school on the B-List or the worst school of the A-list? But it was a prep school.)

I knew kids at various schools like Kavanaugh's. They could be, to borrow a term from social science, dicks. I'm not saying he was. But even if he was, that doesn't mean he was a rapist. Though, to listen to various liberals, you'd think stereotypes about sex, race, and class are always true so long as you're talking about white preppy Christians.

Still, I will confess I have my own biases. I never took high school too seriously, so I had a certain amount of resentment towards those who did. The kids who constantly worried about their permanent record; the kids who did everything they could to please teachers or gussy-up their college applications; the kids who seemingly without much effort checked boxes as both jocks and academic grinds; the kids who were always worried about getting in trouble for fear of having to go to a state school: These were kids that I didn't gravitate towards precisely because I couldn't be one of them. But I will grant them this: They seemed really unlikely to organize rape gangs if for no other reason than that such things look really bad on your application to Yale.

Again, I don't mean to be unfair to Brett Kavanaugh. I have no doubt that a regular churchgoing kid had other reasons not to do the logistical heavy-lifting of drugging and raping teenage girls on a regular basis. I'm just assuming the worst while still employing Occam's Razor. And I just have a hard time believing that the Rapey McRapeFace who Avenatti and his fans describe is the real Brett Kavanaugh.