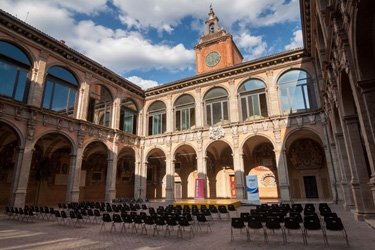 University of Bologna, the oldest in the world, founded 1008.
A Facebook friend shared this:
Several weeks ago, a FB friend steered me to an essay on the decline of the university. It was pedestrian, as these things go; you likely know the reasoning as well as I do by now. But there was a reader's comment attached that has haunted me since.

The reader argued that the essayist was upset because he (the essayist) assumed that the mission of the university was fixed. He (the reader) has a point. Most of the earliest universities in Europe and America were founded to glorify God and train clergy; that was the dominant university mission for over 600 years and only began to shift during the Enlightenment. The Enlightenment refocused (again, most) universities on the pursuit and dissemination of truth. (Note, that "t" is in the lowercase; truth, in the lowercase, is merely a correspondence between what is thought and said and a reality that exists independently of what is thought and said.)

Perhaps what's going on now is yet another shift in the mission of universities–a shift away from the pursuit and dissemination of truth and toward a kind of bourgeois, psycho-therapeutic performance of collective identities and grievances.

If that's what's going on, then we are surely going to witness a schism within the university, a schism in which mathematics and hard sciences go in one direction (i.e., continue the pursuit and dissemination of truth) and the social sciences and humanities go in another direction (described above).