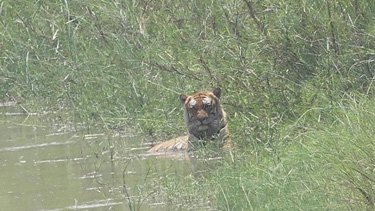 EAGLE PASS, TX — A tiger has been spotted in the Rio Grande today, according to social media rumors.

The pictures first surfaced by a social media page from Nuevo Laredo, Mexico. …

According to the Eagle Pass News Leader, the images have not been confirmed to be in the Rio Grande, but many believe it to be in Laredo.

Many questions have been buzzing around Facebook about where the tiger came from and many of them have named the tiger "El Tigre Del Sur" or the tiger from the south.

A year ago today, the Washington Post reported that Federal agents peered into a duffel bag on the Mexico border. They found a tiger cub. So, the idea that a tiger was hanging out on the banks of the Rio Grande is not that far-fetched.
The original photos are on Facebook here.