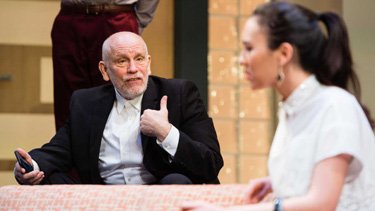 Andrew Mahon reports that David Mamet's new play, Bitter Wheat, upset the establishment critics.
David Mamet's latest play Bitter Wheat opened in London's West End in June to largely negative reviews, which is somewhat surprising, because it's terrific. Then again, maybe it's not so surprising. Most theatre critics are bleeding-heart leftists, and following his embrace of a more conservative attitude, they simply regard David Mamet as a traitor. It's petty, but it really is that simple. …

John Malkovich is appropriately disgusting in the lead role of Barney Fein, clearly inspired by Harvey Weinstein, a loathsome, vile human being, who treats everyone around him like crap, manipulating and blackmailing his way to money, sex, fame and awards. He has no redeeming qualities — his appearance (complete with a flabby fatsuit) is grotesque. I would surmise that Mamet and Malkovich both have enough of a personal acquaintance with Harvey Weinstein that this comic exaggeration isn't all that far from the truth. Weinstein signifies the apex of the rotten, moralistic, hypocritical Hollywood money-making machine, and Bitter Wheat is a damning indictment not only of Weinstein, but of all of Hollywood-NY-liberal-progressive-Democratic-leftist elitism. …

Many leftists are obviously more virtuous than Weinstein on the personal side but on the corporate side, they can't match his credentials. He supports all the "right" causes with his considerable fortune. A brief look at Weinstein's Wikipedia page reveals that he has been active in fighting poverty, AIDS, juvenile diabetes, and multiple sclerosis, and has served on the board of the Robin Hood Foundation, while advocating for gun control laws and universal healthcare. He's a left-wing saint. In the play, Fein supports a charity for immigrants, passionately rejecting the term "illegal immigrant," and lauds the bravery of migrants seeking a better life. He expresses his corporate leftist virtue most directly when he's trying to persuade the reluctant young actress, played by Ioanna Kimbook, to sleep with him, commenting with dismay, "I'm not sure you realise just how much money I give to the Democrat Party." The audience exploded with laughter; I'll bet the critics fumed.