13 Mar 2014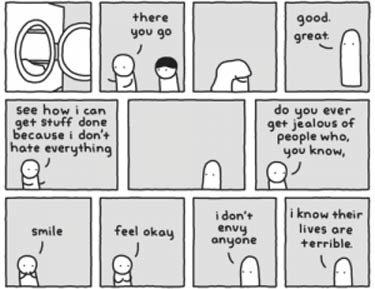 John Campbell raised over $51,000 on Kickstarter from more than 1000 donors for his personal project of publishing a comic titled Sad Pictures for Children.
Campbell then published an addendum on Kickstarter, informing donors that he was fed up with mailing out copies of his book. He would not be mailing any more, and every time somebody complained, he intended to burn a copy of his book. His anti-Capitalism rant is hilarious enough to merit reading, but sufficiently incoherent and deranged that you are better off with some selected excerpts.
"AFFLUENT PEOPLE: PLEASE DEFEND YOUR DESIRE FOR AFFLUENCE AND PARTICIPATION IN CAPITALISM …

I shipped about 75% of kickstarter rewards to backers. I will not be shipping any more. I will not be issuing any refunds. For every message I receive about this book through e-mail, social media or any other means, I will burn another book. …

When we allow ourselves to believe that certain people/animals/things have value we simultaneously and necessarily believe that other people/animals/things do not. …
I do not need more wealth or property than what fulfills my needs. I do not need to increase my income as I age.
I pulled money from that retirement account a few times until finally taking all the money out and closing it at the end of 2011. I experienced an emotional "crash" that fall, like most falls, but this was worse than others, in part because I ran out of money and went off anti-depressant medication for the first time. I didn't understand this then, but I could've gone online and asked people to pay for my meds and they would have.
This Christmas I refunded more books and orders than I have before. I got a lot of requests from backers to get books sent before Christmas, which I was able to do for some people. I could not do this for other people before leaving for the holidays, and many of them asked for refunds.
I refunded them with money I got from selling the original art I made for my webcomic from 2009-2012. This was money I planned to ship orders with. After this happened, I could have made another update explaining I had issued refunds and then tried to sell more things or asked for more shipping money. Instead I thought for a long time about what has been happening.
Before I sold my original art, I wrote a post to backers that mentioned my sexual identity. I felt that explaining part of my personal development over the previous year would help bring understanding and value to my absence from the internet and lack of production. I sold enough to ship the books I needed to ship, something like 50 pieces. When I posted links to my original art with the broader reach of my social media presences and other websites, I sold, I think, 3 pieces.
If I had explained some of my absence on my social media presences the way I had on my kickstarter, my original art would have increased in monetary value. If I had not explained myself to my backers in a way that satisfied them, they may not have asked to buy original art or helped with shipping at all. What if I had felt or expressed myself some different, less acceptable way? Several cartoonists e-mailed me to let me know I was "so brave" for mentioning my sexuality to my backers without understanding that if I hadn't my work probably wouldn't have had enough value to pay for shipping, or refunding as it turned out.
What if I don't want to talk about my sexuality on the internet? What if I don't want to draw again? Why should I prove to people on the internet I deserve to eat and sleep? I don't deserve to eat and sleep. I don't deserve anything good or bad. There isn't "good" or "bad" and there isn't an "I" to deserve them.
If you would like a refund, please contact a fan of my work directly for your money. This is where the money would come from anyway. I am cutting out the middle man.
I refunded some of the preorders I received through paypal in addition to the kickstarter orders, but I will not be refunding any more.
The backers who gave me the most money received the least "reward" from me. After shipping costs, I "lost money" on most of the books I sold at the $25 level so, backers at the higher levels, you could perceive of yourselves as having "paid for" the books that the "lower" backers currently have, and you could try to get those books that you "paid for" somehow.
You could try to obtain refunds through kickstarter or paypal, through your bank or credit card company. You could try to harass me or inconvenience me or tell other people negative things about me or this kickstarter in the hope that this will affect me negatively. Be aware that each attempt to contact me about this book will individually result in the burning of a book until the books are gone.
I am making the loudest sound I know how to make. I know that some people will be personally offended that I am doing this, but I am doing this in large part because our culture has developed in such a way that some of the intelligent, empathetic people who follow me will believe they feel more psychological pain because of books being burnt, their money and my attitude about them than because of the destruction of the natural world, the continuation of classist, racist, abusive patterns of behavior and representation, etc.
If you have negative feelings about the actions I am taking, that is part of what I am protesting against. I am protesting the values you use to determine how you feel about and interact with the world.
I will not be responsible for the manufacture of any more unnecessary physical objects. The natural world is being destroyed by unnecessary production. …
I want direct funding for my living necessities. I want to establish relationships with a group of people who can pay for my baseline needs like food and rent. I am looking for people who do not feel they need to see any "return" on their "investment." I am looking for people who understand that money is a bad joke we use to hurt each other. I'm looking for people who like me were born with a lot of privileges but who have had the awareness and emotional stability to keep their bucket under the faucet when the money comes out.
I am not looking for the support of anyone who wants a book, or wants to see me put stick figure comics on the internet. I do not need the support of anyone who thinks that I will deserve to eat and sleep only after I have fulfilled some standard they've chosen to hold me to. I am looking for people who believe that if you spend your life in a small room thinking, you deserve to live and breathe the same amount as someone who spends their life doing intense physical or mental labor, or who has money that 'makes money.'"
And so on.
This Campbell guy (soon to be a girl apparently) represents in one personality a pretty hideous indictment of the culture and attitudes of the contemporary Left.
Via Reason magazine.