Category Archive 'Bald Eagle'
16 Aug 2018

08 Feb 2017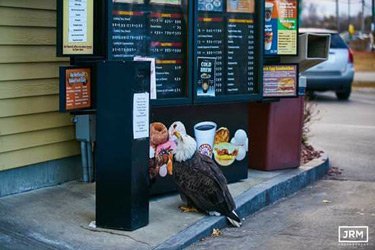 Hat tip to Bird Dog.
30 Apr 2016

Animal lovers got a shock yesterday when a webcam broadcasting pictures of a bald eagle nest in Pittsburgh showed the adult eagles feeding somebody's domestic cat to their chicks.
Washington Post story
Cats? Bald eagles are powerful enough to kill sheep or even small deer.
29 Jan 2014

Hat tip to Karen L. Myers.
06 Jul 2013

11 May 2013

29 Jan 2007

AP:
JUNEAU, Alaska: About 10,000 Juneau residents briefly lost power after a bald eagle lugging a deer head crashed into transmission lines.

"You have to live in Alaska to have this kind of outage scenario," said Gayle Wood, an Alaska Electric Light & Power spokeswoman. "This is the story of the overly ambitious eagle who evidently found a deer head in the landfill."

The bird, weighed down by the deer head, apparently failed to clear the transmission lines, she said. A repair crew found the eagle dead, the deer head nearby.

The power was out for less than 45 minutes Sunday.
Hat tip to Karen L. Myers.
10 Jan 2007

One game warden, at least, lives up to Iowa's nickname: the Hawkeye State.
the bird appeared to have caught a single talon in a knothole in the branch when it landed. Apparently, the bird tried to take off, losing its balance. It hung from the talon, upside down.

Because the eagle was hanging over a cliff and high in the air, ropes and ladders seemed unlikely rescue tools, Sandholdt said. Many in the group thought a mercy killing was the best option.

Sandholdt said he asked for a chance to free the bird with his rifle, figuring at best the bird would fall into the lake and have to be rescued for rehabilitation at a clinic.

"It's safe to say no one had any confidence that I could do that," Sandholdt said of his proposed sharpshooting. "My buddies were waiting for a poof of feathers."

Sandholdt bent a tree sapling over to use as a brace. He used the muzzleloader's scope to take aim, and the bullet traveled 60 to 70 feet, cleanly through the edge of the knothole. Sandholdt figures he hit the talon, too.

The eagle flew away. Officers waited for it to collapse. Instead, the bird kept flying, disappearing over the horizon.
31 Mar 2006

Streaming live video of nest, located Hornby Island, British Columbia. First egg laid, March 21st; second egg laid, March 24. Eggs due to hatch: April 26 and April 30.
link.