Category Archive 'Blogs'
05 Apr 2017

Who but Ann Althouse could deliver two in a row like this?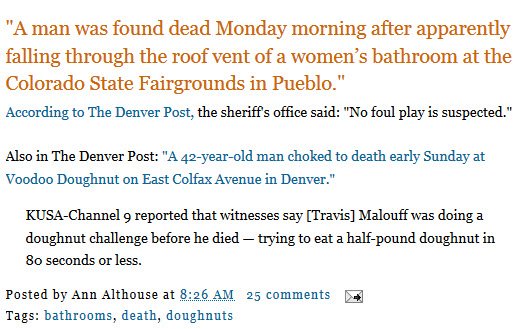 17 Jul 2016


Never Yet Melted's logo comes from a 19th century Life of Frontiersman & Indian Fighter Lewis Wetzel, depicting Wetzel shooting one of three Indians attempting to kill him. Wetzel was able to reload on the run and killed all three of his pursuers. The image was chosen as a rustic American homage to the images of irrationality and barbarism defeated by civilized Western intelligence originally displayed on the Parthenon in Athens and on the Great Altar of Zeus and Athena in Pergamon.
Never Yet Melted has been around a while now, but remains (the complimentary term is) a boutique blog, inevitably limited in readership due to the idiosyncratic opinions, eccentricities, and often esoteric interests of its solitary editor and proprietor.
Surprisingly, today NYM has been named (for the first time ever) to one of those lists of THE FIFTY TOP BLOGS RIGHT NOW by The Daley Gator.
We're in some good company on his list, though he has obviously overlooked a number of far more prominent and important conservative blogs than this one.