22 Apr 2012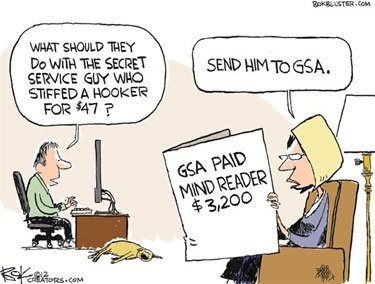 Mark Steyn is in good form.
What we know so far is this: All eleven Secret Service men and all ten U.S. military personnel staying at the Hotel Caribe are alleged to have had "escorts" in their rooms that night. All of them. The entire team.

Twenty-one U.S. public servants. Twenty-one Colombian whores. Unless a couple of the senior guys splashed out for the two-girl special. "Some of them were saying they didn't know they were prostitutes," explained Congressman Peter King, chairman of the House Homeland Security Committee.

"Some are saying they were women at the bar."

Amazing to hear government agents channeling Dudley Moore in Arthur: "You're a hooker? I thought I was doing so well." It turns out U.S. Secret Service agents are the only men who can walk into a Colombian nightclub and not spot the professionals. Are they really the guys you want protecting the president?

Congress is not happy about this. "It was totally wrong to take a foreign national back to a hotel when the president is about to arrive," said Representative King.

It's wrong to take a "foreign national" up to the room, but it would have been okay if she'd been from Des Moines? We're all in favor of outsourcing, but in compliance with Section 27(e)viii of the PATRIOT Act this is the one job Americans will do?