10 Dec 2017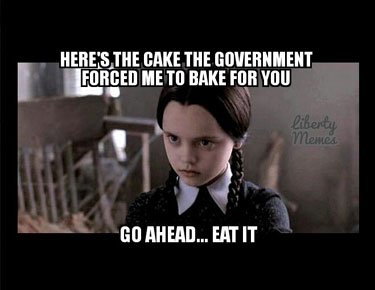 Zman thinks a major blow to the Custodial State may be in the works.
[T]he Left is in something close to a full panic over the oral arguments in Cakeshop v. Colorado Civil Rights Commission. The reason for this is the way Judge Gorsuch questioned the attorney for the homosexuals. He correctly pointed out that the "remedy" for the alleged discrimination, is to force the baker to say things in public that he would never say and that he finds offensive. Gorsuch did not say this, but this is how Chinese communists punished heretics in the Cultural Revolution.

Put another way, the "remedy" for those not wanting to associate, in this case do business with, another group of people, is to frog march them into the public square and force them to say things they think are false and possibly evil. Of course, it is the only remedy, short of genocide, that is possible in a society without freedom of association. Once the state can force you to be around other people, people you may not like, they have no choice but to supervise your speech, your thoughts and your every move. You are a slave.

That is the reality of the custodial state. The people in charge see themselves as your caretakers, like a baby sitter or care giver. In reality though, you are their slave, because like a slave, you no longer control your body. They control where it is and what it is permitted to do. In this particular case. the state is trying to force this baker to perform his services for the homosexuals. The efforts to punish him are no different from a slave master flogging a runaway slave. It's to send a message to the rest of the slaves.