18 Dec 2017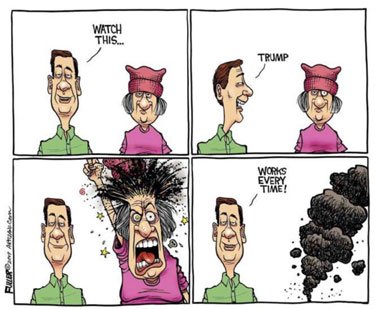 Charles C.W. Cooke nukes Jennifer Rubin until she glows for her everlasting Never-Trump-ism, which is turning her into a liberal tool.
The era of Trump has been as hard on the mind as it has been good for the muscles in the chest. Ours is a moment in which millions rush breathlessly to exclaim. In defense! In resistance! In bloody-minded persistence! "I will not back down!" we are told, by people who have not been asked to, and could not be compelled to. They won't be "intimidated" either, nor "silenced," nor "bullied" nor, it seems, pushed to any form of self-reflection. Indignation, not analysis, is the perennial order of the day, and the tone of our debates is ineluctably Twitteresque. Retweets are points on the board, and hyperbole gets you oodles of them. The worst. Ding! Insane. Ding! Crisis. Ding, ding, ding! Congratulations, you have been promoted to the next level. Time for some game theory . . .

From this self-laudatory funhouse has emerged a host of cynical entrepreneurs, each with the same approach to our dismal, fractious moment: Take no prisoners, brook no opposition, and never, ever step away from the umbrage. These people end their sentences with "Really." or "In 2017." or "Let that sink in"; they pepper their analyses with eschatology; and, as is apt for a cult, they are promiscuous with their accusations of heresy. Like Lewis's busybodies, they are convinced to a man that they are saving the country, and insistent that the dissenters are miscreants or weaklings. They have little sense of history, no instinct for context, and no meaningful faith in the system they want to save. They are marching in an army, and damn does it feel good.

Which brings us to Jennifer Rubin, the Washington Post's ostensibly conservative blogger.

Rubin is not the only example of this president's remarkable talent for corrupting his detractors as well as his devotees, but she is perhaps the best one. Since Donald Trump burst onto the political scene, Rubin has become precisely what she dislikes in others: a monomaniac and a bore, whose visceral dislike of her opponents has prompted her to drop the keys to her conscience into a well.
Regular, long-term readers will recall that, right up to Election Night, I was anti-Trump myself, and I did not even vote for him. I voted for that Mc-Somebody-or-other guy from Utah.
But, I did indulge in some private gloating Election Night as Hillary went down in flames. And, as Inauguration Day arrived, I sat down with a large drink, and reflected. I realized that I had been wrong: Trump really was evidently not a democrat Q-Boat. He was actually sincere, and he was proposing to do a lot of good things. And, while Donald Trump was never going to measure up to the ideal form of President of the United States, if you compare him to the great majority of presidents in my own lifetime, he's not really so awful as all that.
He isn't really any more plebian than Truman. Trump was never a bagman for a crooked urban political machine. He is not even close to being as worthless and fraudulent in every way as JFK. He isn't a total poltroon, and he probably won't be banging hookers in the White House pool. He is not as vulgar and just plain nasty as Lyndon Johnson. He will not humiliate his underlings by making them talk to him while he's on the can. Trump also will probably refrain from waving his male organ at the White House press corps. And he is not even close to being as nerdy and neurotic as Nixon. He won't drink himself to sleep every night on taxpayer-funded Haut Brion.
He actually is more consistently conservative in his policies and is keeping a lot more of his promises than the Bushes.
The trick to enjoying the Trump presidency is simply never watch him speak, just sit back and watch all the liberal heads exploding everywhere, pour yourself another drink, and laugh.
The way I see it. Conservatives like me did not elect Donald Trump. The Liberals did by driving ordinary working class Americans round the bend with their left-wing insanity, their incredible arrogance, and their contempt for America and Americans. Trump is the ordinary American-in-the-street's rejoinder. And they obviously deserve it.