Category Archive 'Trump Derangement Syndrome'
29 May 2019

01 May 2019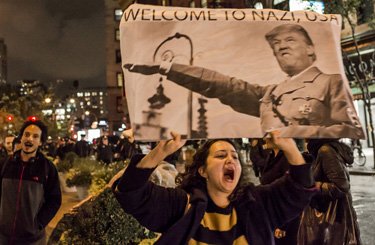 Karin McQuillan explains that that is why they have no limits whatsoever on their behavior or appetite for power.
Before Trump was a gleam in their eye, Democrats saw themselves as the only morally valid people in the country. They don't want individual rights anymore, only group rights. They want Republicans and dissenting liberals to be silenced. Silencing is too good for us—they want us publicly shamed, if need be physically attacked, and any contrary ideas hounded out of the public and the private square.

Democrats hate our electoral system as unjust because it doesn't deliver to them guaranteed victory. All their efforts towards 2020 will be focused on changing our election laws and norms. They don't want the electoral college, which guards against domination of the country by politically narrow urban population centers.

They don't want any safeguards against voter fraud. In fact, they want to legalize a broad highway to fraud, voter "harvesting." Paid political operatives go door to door, picking up unused mail-in ballots (sent out without request if Democrats have their way), fill them in for the Democrat candidate, and voilà, the Democrats win. They just rolled out the beta test in Orange County, and it flipped long-time red districts blue.

To win in 2020, Democrats will commit every voter scam and fraud ever invented and they are in the process of inventing a whole lot of new ones. Intimidation and moral grandstanding are keys to success for them, hence, attacking Republicans who dare to wear a Trump hat, put up a yard sign, or put a bumper sticker on their car. They will stop the census from asking about citizenship, because illegal voters on the population rolls gives California alone six seats in Congress they would not otherwise have, robbing those seats from more rural, more Republican states.

Social justice, like all Marxist ideologies, believes the ends justify the means. Democrats have no shame that they lied for two years, pretending that a farrago of clumsy lies whipped up by Russian agents for Hillary Clinton was a valid reason to investigate a sitting president. They need hatred of Trump to unify their disparate voting blocks and whip up the frenzy necessary to cover over their unpopular, radical policies.

Naked political power is the driving force behind our culture wars, and behind the weird war on President Trump. It has little to do with his specific policies, let alone his tweets and his pugnacious personality, except that Trump's counterpunching and toughness have allowed him to survive. John McCain and Mitt Romney didn't drive them crazy because they caved without a fight. Trump drives Democrats crazy because he won, and because he won't give in or give up.
21 Jan 2018

Trump is really getting to them. Isn't the frustration delicious?
18 Dec 2017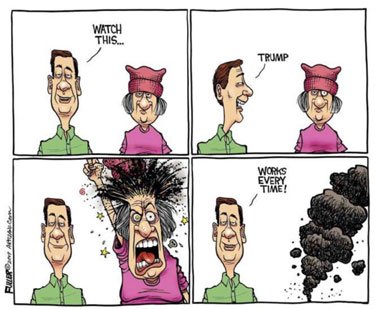 Charles C.W. Cooke nukes Jennifer Rubin until she glows for her everlasting Never-Trump-ism, which is turning her into a liberal tool.
The era of Trump has been as hard on the mind as it has been good for the muscles in the chest. Ours is a moment in which millions rush breathlessly to exclaim. In defense! In resistance! In bloody-minded persistence! "I will not back down!" we are told, by people who have not been asked to, and could not be compelled to. They won't be "intimidated" either, nor "silenced," nor "bullied" nor, it seems, pushed to any form of self-reflection. Indignation, not analysis, is the perennial order of the day, and the tone of our debates is ineluctably Twitteresque. Retweets are points on the board, and hyperbole gets you oodles of them. The worst. Ding! Insane. Ding! Crisis. Ding, ding, ding! Congratulations, you have been promoted to the next level. Time for some game theory . . .

From this self-laudatory funhouse has emerged a host of cynical entrepreneurs, each with the same approach to our dismal, fractious moment: Take no prisoners, brook no opposition, and never, ever step away from the umbrage. These people end their sentences with "Really." or "In 2017." or "Let that sink in"; they pepper their analyses with eschatology; and, as is apt for a cult, they are promiscuous with their accusations of heresy. Like Lewis's busybodies, they are convinced to a man that they are saving the country, and insistent that the dissenters are miscreants or weaklings. They have little sense of history, no instinct for context, and no meaningful faith in the system they want to save. They are marching in an army, and damn does it feel good.

Which brings us to Jennifer Rubin, the Washington Post's ostensibly conservative blogger.

Rubin is not the only example of this president's remarkable talent for corrupting his detractors as well as his devotees, but she is perhaps the best one. Since Donald Trump burst onto the political scene, Rubin has become precisely what she dislikes in others: a monomaniac and a bore, whose visceral dislike of her opponents has prompted her to drop the keys to her conscience into a well.
Regular, long-term readers will recall that, right up to Election Night, I was anti-Trump myself, and I did not even vote for him. I voted for that Mc-Somebody-or-other guy from Utah.
But, I did indulge in some private gloating Election Night as Hillary went down in flames. And, as Inauguration Day arrived, I sat down with a large drink, and reflected. I realized that I had been wrong: Trump really was evidently not a democrat Q-Boat. He was actually sincere, and he was proposing to do a lot of good things. And, while Donald Trump was never going to measure up to the ideal form of President of the United States, if you compare him to the great majority of presidents in my own lifetime, he's not really so awful as all that.
He isn't really any more plebian than Truman. Trump was never a bagman for a crooked urban political machine. He is not even close to being as worthless and fraudulent in every way as JFK. He isn't a total poltroon, and he probably won't be banging hookers in the White House pool. He is not as vulgar and just plain nasty as Lyndon Johnson. He will not humiliate his underlings by making them talk to him while he's on the can. Trump also will probably refrain from waving his male organ at the White House press corps. And he is not even close to being as nerdy and neurotic as Nixon. He won't drink himself to sleep every night on taxpayer-funded Haut Brion.
He actually is more consistently conservative in his policies and is keeping a lot more of his promises than the Bushes.
The trick to enjoying the Trump presidency is simply never watch him speak, just sit back and watch all the liberal heads exploding everywhere, pour yourself another drink, and laugh.
The way I see it. Conservatives like me did not elect Donald Trump. The Liberals did by driving ordinary working class Americans round the bend with their left-wing insanity, their incredible arrogance, and their contempt for America and Americans. Trump is the ordinary American-in-the-street's rejoinder. And they obviously deserve it.
10 Jul 2017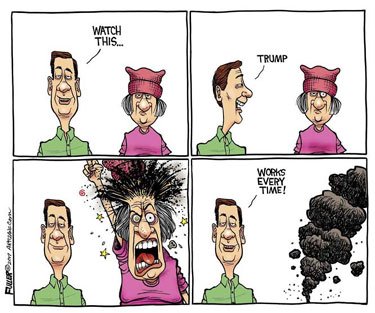 HT: Vanderleun.
03 May 2017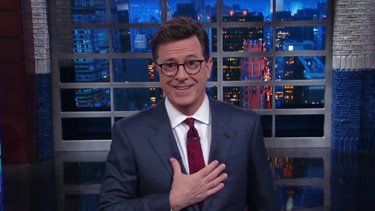 Roger Simon observes that the Progressives' national hysteria over Donald Trump is so out of proportion to anything he's actually done that it constitutes proof of genuine dementia.
Since his inauguration, and to a great extent before, the whole country has gone more or less berserk. Just the other night, comedian Stephen Colbert, in what I presume we were supposed to take as an edgy witticism, accused our president of fellating Russia's Vladimir Putin. Although I recall many bad things being said about LBJ back in the day (Barbara Garson wrote a play comparing him to Macbeth, and who can forget "Hey, hey, LBJ, how many kids did you kill today?"), nothing approached Colbert's angry joke in terms of pure unmitigated hostile vulgarity, not on late-night TV anyway.

But his was just the culmination (for now) of a modern Days of Rage which has metastasized into Months of Rage with no end in sight.

We all know the endless litany of events, from pussy hat parades to smashed windows and fires at our most famous public university to people marching through the streets of Philadelphia calling for the death of the president and his vice president, so I'm not going to bore you with them all. I am only going to ask the simple question: Why Trump?

If you were a visitor from a distant solar system come to our nation or even a time traveler from our own nineteenth century, I submit you would be perplexed. This Trump person (being?) doesn't seem to be all that different from many leaders who have come before him. I mean, what has he done exactly? Enforced some immigration laws that were enacted by the Congress over several administrations? Tried to fix a mediocre healthcare plan with another plan that may or may not be as mediocre? Called for a tax reduction similar to those enacted by previous Republican and Democratic administrations? Cut back on some regulations that became overly burdensome? Called for a temporary halt to immigration from a half-dozen countries his predecessor had already cited as dangerous hotbeds of terrorism? Shot off a few dozen cruise missiles at the airfield of a dictator who was gassing his own people, but didn't harm a single person in the process? …

And yet the rage is, if anything, greater and more consistent than it was during Vietnam. How do we explain that?

I don't think we have a choice but to say the explanation is in the realm of human neurosis, not politics. And make that pretty severe neurosis, almost psychosis. Something about Trump's character and appearance — what he says and does or, more accurately, what they think he says and does, because they are completely incapable of seeing it with any clarity — has set off multiple trip levers in the minds of a huge percentage of Americans, including the media, Hollywood, the academy, etc. This, however, says vastly more about them than it does about Trump.

One way to look at it is that the left, or what we call the left (liberal and progressives of various stripes), are actually by far the most conservative or rigid people in our culture in terms of personality. The slightest alteration in policy or change in the zeitgeist threatens them all out of proportion to reality and they act out, like these self-described anarchists (assuming they have even heard of Bakunin or Kropotkin) just did the other day in Portland, naming themselves, as did the increasingly pathetic and desperate Hillary Clinton herself just did today, "The Resistance." In what sane universe does calling yourself "The Resistance" to Donald Trump make sense when the original "Résistance" was to counter Hitler and the Nazis taking over France, and prevent them from sending people to concentration camps and doing away with the underground in firing squads? Is that what Trump is doing?
27 Jan 2017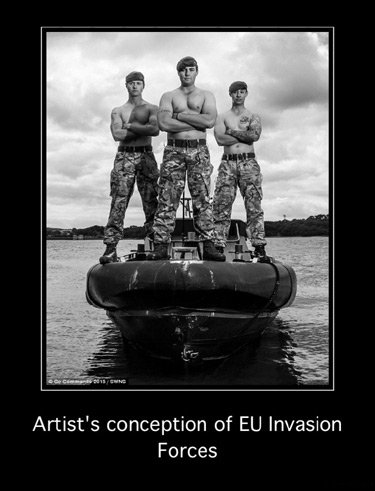 Nick Cole offers what is, I think, a fantasy mocking the Trump Derangement Syndrome of certain members of the coastal community of fashion.
Jan 24th, 2016. Silverlake, CA

A local woman, active in her vegan karate group, is surprised Europe hasn't reciprocated for liberating the continent during WW2 with an Invasion of America, or at least Trump Tower, as of the week after the Inauguration. Hours of BBC programming have convinced her that full-scale foreign invasion is the "right-side-of-history move for the U.K." at this critical moment in order to stop "Not-My-President Trump."

In the months after former President Barack Obama and Pantsuit enthusiast Hillary Clinton spectacularly led the Democrat party to a stunning loss of both legislative houses and the Presidency, to a man several of her friends assured her was Hitler, she'd had high hopes of martial law in order to prevent the rise of this obvious totalitarian dictator from the past. Various celebrities also assured her through their social media channels that Donald Trump was Hitler, a known war criminal, and that he would be impeached within hours of daring to take the oath of office despite this never happening before. She took comfort in antidepressants, Whole Foods shopping trips on her overdraft, and RE-binging every season of Girls with the knoweledge Trump/Hitler would never be her president.

After extensively researching Hitler on Wikipedia one afternoon before a Yoga for Cats Empowerment Seminar, she was shocked to find out that the former reality TV Star was in fact responsible for the genocide of six million people, the destruction of Europe, and the further deaths of another 20 million combatants and civilians. She cited these shocking statistics online at a Make-Your-Own Kombucha Facebook page as reasons why Europe should invade America immediately to take back their Hitler. Saturday afternoon she took to the streets of Downtown LA with a homemade sign other protestors found inappropriate, reading: "Dear Europe- We're up for Grabs!" to protest the inauguration of the business man/politician/ possible time-traveling genocidal maniac who was surely hours away from rounding up her gay friends for electro-shock therapy camps in the desert, according to MSNBC. A Rachel Maddow Reddit thread she admin'd reported suspicious "government-looking types" cruising West Hollywood and promising young men a "good time" if they "wanted to party."

The EU has still, as of publication, not invaded America.
Hat tip to Karen L. Myers.
14 Jan 2017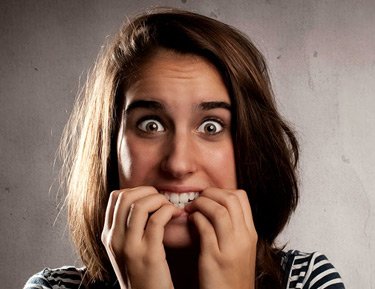 notjaffo on Reddit explains.
Why is Hollywood (in particular) freaking out so badly over Trump?

First, because he's a Republican who might actually do the things he said he wanted to do. But second, because this is the first cultural victory the right has scored since Reagan stumbled into one in the '80s.

The left is used to losing political battles. They scream and cry over these but they don't truly panic, because they know that as long as they maintain their hammerlock on the culture, Republicans can't really change anything.

Blue Team Progressivism is a church, offering you moral superiority and a path to spiritual enlightenment. As a church it's got a lot going for it. It runs religious programming on television, all day every day. Every modern primetime program is like a left-wing Andy Griffith show, reinforcing lessons of inclusion, tolerance, feminism, and anti-racism.

Watching a 90-pound Sci-Fi heroine beat up a room full of giant evil men is as satisfying to the left as John Wayne westerns were for the right.

The Blue Church controls the HR department, so even if you don't go to church, you have to act like a loyal churchgoer in every way that matters while you're on the clock. And off the clock, on any kind of public social media platform.

Jon Stewart and John Oliver are basically TV preachers. Watching them gives the same sense of quiet superiority your grandma gets from watching The 700 Club. The messages are constantly reinforced, providing that lovely dopamine hit, like an angel's voice whispering, "You're right, you're better, you're winning."

Hollywood award shows are like church talent shows – the skits and jokes aren't really funny, but it's fun to look at the pretty girls, and you're all on the same team.

Red Conservativism is a business, selling a set of political products. They don't make you feel good, they don't appeal to your morality or your spiritual sense of self, but sometimes you really NEED one of their core products like security, jobs, or national defense. Their appeals to "freedom" and "family values" ring hollow these days, but when people are flying planes into buildings, you need a strong member of Conservatism, Inc. in the big chair.

And when it came down to the things that really mattered – welfare, Medicare, Social Security, and foreign policy, you knew Red Team couldn't really do anything Blue Team didn't approve of, or the Blue faithful would kick them out of office next time.

But Donald Trump didn't sign that contract. And Donald Trump didn't win by selling the same old conservative products. Donald Trump started his own religion, and he won a religious victory.

The Blue Church is panicking because they've just witnessed the birth of a new Red Religion. Not the tired old Christian cliches they defeated back in the '60s, but a new faith based on cultural identity and outright rejection of the Blue Faith.

For the first time in decades, voters explicitly rejected the Blue Church, defying hours of daily cultural programming, years of indoctrination from the schools, and dozens of explicit warnings from HR.

We've been trained since childhood to obey the pretty people on TV, but for the first time in decades, that didn't work.

Donald Trump won because flyover America wants their culture back, and Blue Team has not been rejected like that before.

The younger ones have grown up in an environment where Blue Faith assumptions cannot even be questioned, except anonymously by the bad kids on Twitter.

But now the bad kids are getting bolder, posting funny memes that make you laugh even though John Oliver would not approve, like passing crude dirty pictures under the table in Sunday School.

Meryl Streep is panicking because for the first time voters have rejected HER, and everything her faith has taught her to believe.

There is a new faith rising on the right, not an explicit religious faith like old-school Christianity, but a wicked kind of counterculture movement. We laughed at the hippies in 1968, but by 1978 they were teaching in classrooms and sitting behind school administrator desks.

Where will the hippies of 2016 be sitting after eight years of Trump? How many of the shitposting Twitter bad boys will start up alternative media outlets, until one of them becomes the new Saturday Night Live?

Sam Hyde tried it on Adult Swim, but that was just the early prototype, like Mad Magazine was for the left. There will be many others after him, and they won't be stopped by network filters. They'll come "out of nowhere" on the web, from the secret places that the inquisitors at Google can't shut down.

And that's what Meryl Streep is really scared of. She's not truly aware of it, just like fluttering housewives couldn't really understand the counterculture threat in 1968. But they feel that something is changing in their safe little world, and they know they have to fight it, because this threat isn't just passing pointless budget resolutions and selling pointless platitudes about family values – these guys mean business, and they're fighting on her turf.
Hat tip to Thomas Lifson.