07 Feb 2021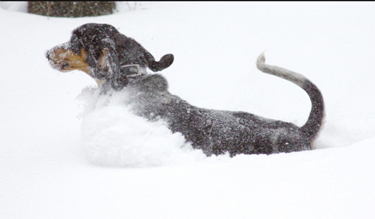 The snow was too deep for Cadet our basset hound.
Our first winter in our Virginia home atop the Blue Ridge, the heavens opened and it snowed two feet. I had inherited an old John Deere riding mower from the previous owners that could have a plow blade mounted on front, but that little garden tractor could not remotely handle that magnitude of snow.
My wife and I were already no longer young, and our driveway was long. We were wondering how long we'd be trapped when we heard noises outside. A neighbor, from a long way down the road, owned a Bobcat, and he was digging out everybody along Raven Rocks Road.
That kind of thing is both extraordinary and yet typical of life in rural America. Our neighbor had the right tool for the job and he knew perfectly well that almost nobody else was similarly equipped. He knew, too, that we were a long way from town, and the chances of anybody obtaining professional assistance were slim. So he just went down the whole road and dug everybody out.
I ran out and offered money, and he naturally refused. A few days later, I went to his house and dropped off a pretty good bottle of Bourbon.
One of the really nice things about living in the country, in red state, fly-over America is that people are neighborly. They believe in helping out other people who need a hand, and they regard it as their own responsibility to do that, not somebody else's or the government's.
So, try reading this piece on a similar experience had by Virginia Heffernan (Wikipedia profile) for the LA Times:
Oh, heck no. The Trumpites next door to our pandemic getaway, who seem as devoted to the ex-president as you can get without being Q fans, just plowed our driveway without being asked and did a great job.

How am I going to resist demands for unity in the face of this act of aggressive niceness?

Of course, on some level, I realize I owe them thanks — and, man, it really looks like the guy back-dragged the driveway like a pro — but how much thanks?

These neighbors are staunch partisans of blue lives, and there aren't a lot of anything other than white lives in neighborhood.

This is also kind of weird. Back in the city, people don't sweep other people's walkways for nothing. …

What do we do about the Trumpites around us? Like Rep. Alexandria Ocasio-Cortez (D-N.Y.), who spoke eloquently this week about her terrifying experience during the insurrection at the Capitol on Jan. 6, Americans are expected to forgive and forget before we've even stitched up our wounds. Or gotten our vaccines against the pandemic that former President Trump utterly failed to mitigate.

My neighbors supported a man who showed near-murderous contempt for the majority of Americans. They kept him in business with their support.

But the plowing.

On Jan. 6, after the insurrection, Sen. Ben Sasse (R-Neb.) issued an aw-shucks plea for all Americans to love their neighbors. The United States, he said, "isn't Hatfields and McCoys, this blood feud forever." And, he added, "You can't hate someone who shovels your driveway."

At the time, I seethed; the Capitol had just been desecrated. But maybe my neighbor heard Sasse and was determined to make a bid for reconciliation.

So here's my response to my plowed driveway, for now. Politely, but not profusely, I'll acknowledge the Sassian move. With a wave and a thanks, a minimal start on building back trust. I'm not ready to knock on the door with a covered dish yet.

I also can't give my neighbors absolution; it's not mine to give. Free driveway work, as nice as it is, is just not the same currency as justice and truth. To pretend it is would be to lie, and they probably aren't looking for absolution anyway.

But I can offer a standing invitation to make amends. Not with a snowplow but by recognizing the truth about the Trump administration and, more important, by working for justice for all those whom the administration harmed. Only when we work shoulder to shoulder to repair the damage of the last four years will we even begin to dig out of this storm.
That neighbor ought to go right out and plow this arrogant liberal cow back in.