24 Apr 2023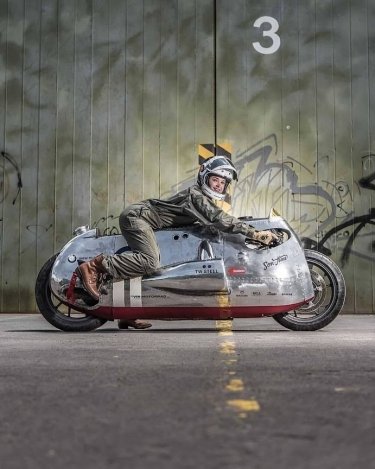 Daniel Weidmann, owner and Managing Director of VTR Customs, and Marcel Brauchli, who was significantly involved in the motorcycle's construction, are competing for BMW Motorrad with a water-cooled R 1200 R conversion. Daniel's hobby of flying provided the inspiration for the design of "Spitfire." He flies a 1938 Royal Air Force fighter plane, and turned the BMW R 1200 R into a torpedo-like monster sheathed in aluminum, reminiscent of an old aircraft.

The very deep line (height approx. 90 cm) invited technical challenges. The front frame was extended by 20cm, the head tube shortened and all electronics repositioned. The engine and frame were taken from "Eddie 21," the VTR Race Crew's competition from the 2017 ESSENZA Sprint Series with Amelie Mooseder as factory driver. The drive swing arm has also remained unmodified.

The Swiss style of customizing is colored by precision and attention to detail. For maximum authenticity, original Spitfire cockpit instruments from the Second World War were used, an aircraft start switch integrated and – as with "Eddie 21" – a breathtaking "Amy Gimmick" the cherry on top. The result will be presented for the first time to the public and the driver in Monza. When all is said and done, the "Spitfire" will shoot spectacular flames from its exhaust pipe.
If you need to ask, you can't afford one.
HT: Daily Timewaster and Urdesign.